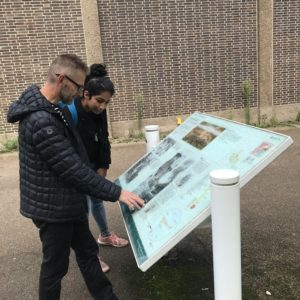 Exploring the city of Derby with curator David Gilbert and artist Natasha Joseph was a great introduction to the Artcore residency. To me it seemed like a large town rather than a city, easy to circumnavigate the centre and lots of friendly people.
It was a pleasure to meet all of the team at Artcore at their two sites; Charnwood Ave, and their fab new space and gallery in Albert Street smack bang in the centre. I loved the current show by previous artist residents Nisa Khan and Charlotte Cullen. It's a great exhibition space upstairs and downstairs is so welcoming with drop in art sessions for everyone -with lunch!

Artcore do amazing work with communities and the sense that there is so much on offer for the people of Derby and I'm really excited about being able to meet and ask people about their small acts of care in their homes. People began telling me stories and soon I plan to start recording their stories as part of my project 'Small Promethean Acts', which celebrate and represent the smallest often invisible acts we perform for others at home by combining small ceramic sculptures with a sound pieces of stories.
It's hard to get the language right. When you talk about 'care' people immediately think of care in the community rather than the things we do for other people that make them feel at home, where ever they are. Small things like making a cup of tea or giving their time to talk through problems even when they are busy. Maybe I should rename my project the things we do …

I hadn't really thought about the ceramic connections in Derby but of course it has a long history of ceramic making, some of which is on show in the local museum café. I loved the small porcelain figures and some of the figures were unusual combinations of women and babies – not something you see very often. Figurine traditions usually show the usual tropes – sexualisation of women, famous classical figures – rather than stories of everyday lives. I'd like to make figurines that show and celebrate people doing everyday things.

I am very excited about the prospect of continuing my perambulations around the city. There is so much to yet discover and much to research about derby and the people who live there.