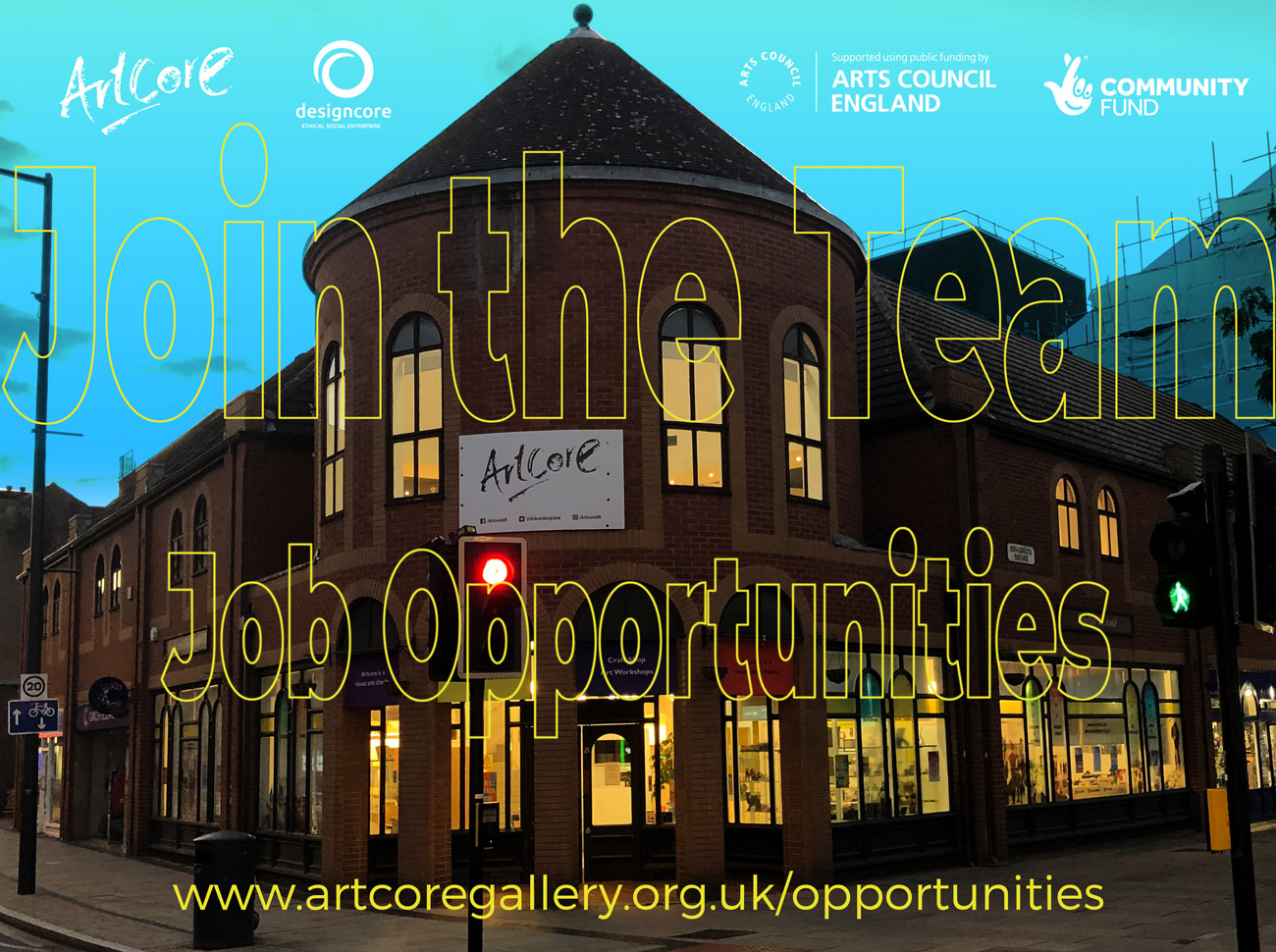 We are always looking for enthusiastic people who share in our vision and can help us achieve our mission. Maybe you could be a part of our team or support us by volunteering with us! Our success depends on the hard work and enthusiasm of our staff and volunteers. Working at Artcore Gallery presents inspiring opportunities, including the chance to discover new hobbies, take part in community projects and even create works of art of your own.
We receive enquiries regarding job vacancies, work experience, work placements and volunteering. All our available opportunities are advertised in this section of the website.
Call-out for New Creative Studio Space Holders at Artcore Gallery Albert Street
We are happy to announce that we have four studio spaces available for artists to occupy at Artcore Gallery (Albert Street) from July 2021 for a six month duration.
We are currently undertaking renovations at our Albert Street building to create a new and accessible space for artists to work from in the city. The shared studio space will be partitioned to create four separate areas. Each studio space will be available at a rate of £150 per month.
What we are offering:
A 80sq ft space
A large window in public view for your own display purposes and for the public to see you at work.
2 glass cabinets, pedestals, display boards & plug sockets will be provided by Artcore
An opportunity to sell your products directly to the public on a daily basis
The chance to host workshops and open-studio events
Support from the Artcore Team
Regular artist spotlights on our website and social media
Free Wi-Fi
Location
We opened our second building as Artcore Gallery at Albert Street to house our contemporary art activity in Derby City Centre in August 2019. The gallery is a versatile space, and our busy exhibition programme of ten shows each year supports the development of emerging artists from Derby and the East Midlands, as well as featuring the work of more established UK and International artists.
Our studio spaces will be located on the first floor of the gallery, overlooking the high street that runs through Derby's city centre. The gallery also faces onto Osnabruck Square, (named after Derby's German twin town of Osnabrück) in which there are three 'cabins', which we are working in partnership with Derby City Council to provide as short-term residency spaces throughout 2021.
Application process
We would like to hear from Derby-based artists, makers, producers and creatives with proposals on how the studio will be used during a 6-month period.
We are looking for people who have an active studio-based practice and will be a part of our dynamic and creative community in Derby. To apply, you must be based in Derby or Derbyshire.
Please write a proposal (no more than 1 side of A4) which outlines:
Your creative practice
How you propose to use the studio space
Any further supporting information
Send your proposals to info@artcoreuk.com by 31 May 2021 5PM.
About Artcore
Artcore is an international centre for contemporary art and creativity and is home to a gallery, studios, workspaces, shop and café. A vibrant hub for artists' residencies, commissioning, exhibition and critical debate, we offer opportunities for diverse audiences to engage directly with artists and their creative practices through participation and discussion. We are a strategic organisation working with a broad range of communities and the cultural, creative industries, community, education, health and regeneration sectors to deliver our programme.
Volunteer Opportunities
Volunteering at Artcore can boost self-confidence and motivation. Working as part of our group will give you the chance to build communication skills, meet new people and learn how to work in a team. In terms of your career, Artcore can help your CV stand out from the rest. Volunteering shows commitment and passion, which are qualities that any employer will appreciate. Volunteers can gain official recognition for their efforts, for example in the form of a Inspired award. Artcore volunteers have been acknowledged by certificates and a fantastic job reference. Volunteering can open up exciting opportunities; in the past Artcore volunteers have obtained work placements in Italy, Malta and Spain.
Our volunteers contribute to the community and have the chance to make a positive impression on the lives of the people they work with. Volunteers have the opportunity to inspire people. Volunteering at Artcore will give you the opportunity to gain skills and confidence, expand your horizons and build new and lasting relationships.
If you are interested in applying for any of these positions, please send your CV to: info@artcoreuk.com
Artist
Volunteers will work on visual arts projects, working alongside other artists to deliver projects. Volunteers will gain experience working in a variety of mediums with a variety of people and experience different cultures and styles. Mediums used include plaster, clay, mosaic and painting. Volunteers must be enthusiastic, hard-working and motivated. An interest in art is essential. Experience of working in this field would be advantageous.
Fundraiser
A volunteer position is available for fundraising for a non-profit organisation
Administration Assistant
This is an exciting opportunity to work within a non-profit organisation as an administration assistant. The role entails providing general administrative support, greeting visitors and responding to a broad range of enquiries. Tasks will include drafting and sending out documents, taking notes of meetings and producing minutes, dealing with enquiries and maintaining the filing system.
Support Assistant
Volunteer to offer general support. Applicants are required to be flexible and work in all areas. This includes office based administrative tasks, housekeeping, and hands-on tasks.
Painter and decorator
Volunteers will carry out painting, decorating and hands-on tasks at Artcore premises. These will include building maintenance, preparing exhibition space and installing the exhibitions themselves.