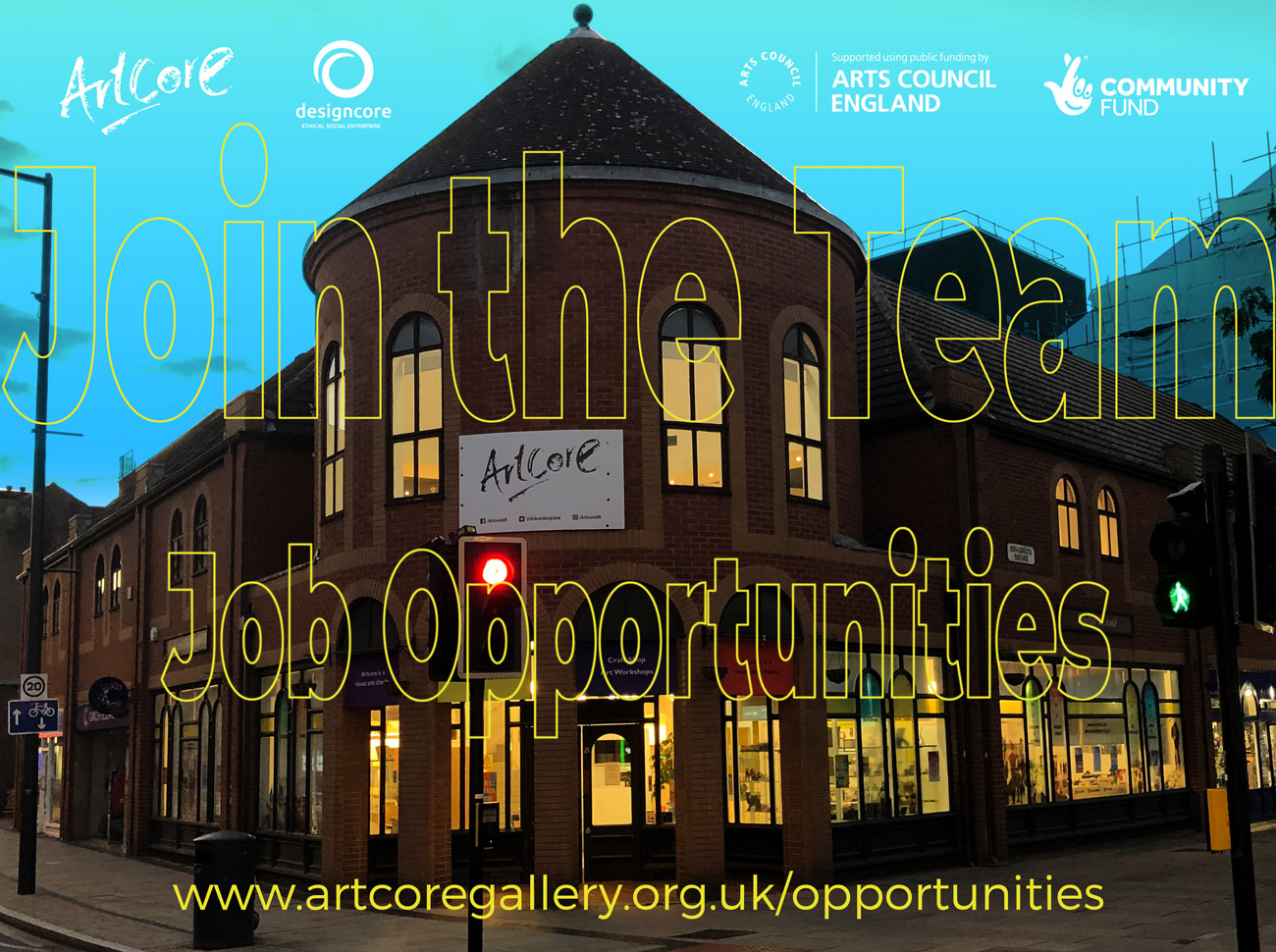 Artist Opportunity
We are always looking for enthusiastic people who share in our vision and can help us achieve our mission. Maybe you could be a part of our team or support us by volunteering with us! Our success depends on the hard work and enthusiasm of our staff and volunteers. Working at Artcore Gallery presents inspiring opportunities, including the chance to discover new hobbies, take part in community projects and even create works of art of your own.
We receive enquiries regarding job vacancies, work experience, work placements and volunteering. All our available opportunities are advertised in this section of the website.
In Memoriam
Callout for expressions of interest – Postcard Art – Exhibition and Auction.
Oh, yet we trust that somehow good
Will be the final goal of ill.
Lord Tennyson, In Memoriam
We would like to invite artists based in Derby and Derbyshire to be a part of this project by making postcard-sized artworks.
Write a poem or a prose text, paint or draw, paste a collage or a photograph – whatever you think leaves you with a sense of closure, of emotional relief, of expressing what you have been unable to do so as yet.
Deadline: Please complete your expression of interest by Sunday 29 November and we will send out a pack to you.
To apply visit: https://www.curatorspace.com/opportunities/detail/callout-for-expressions-of-interest–in-memoriam–postcard-art-exhibition-and-auction/4954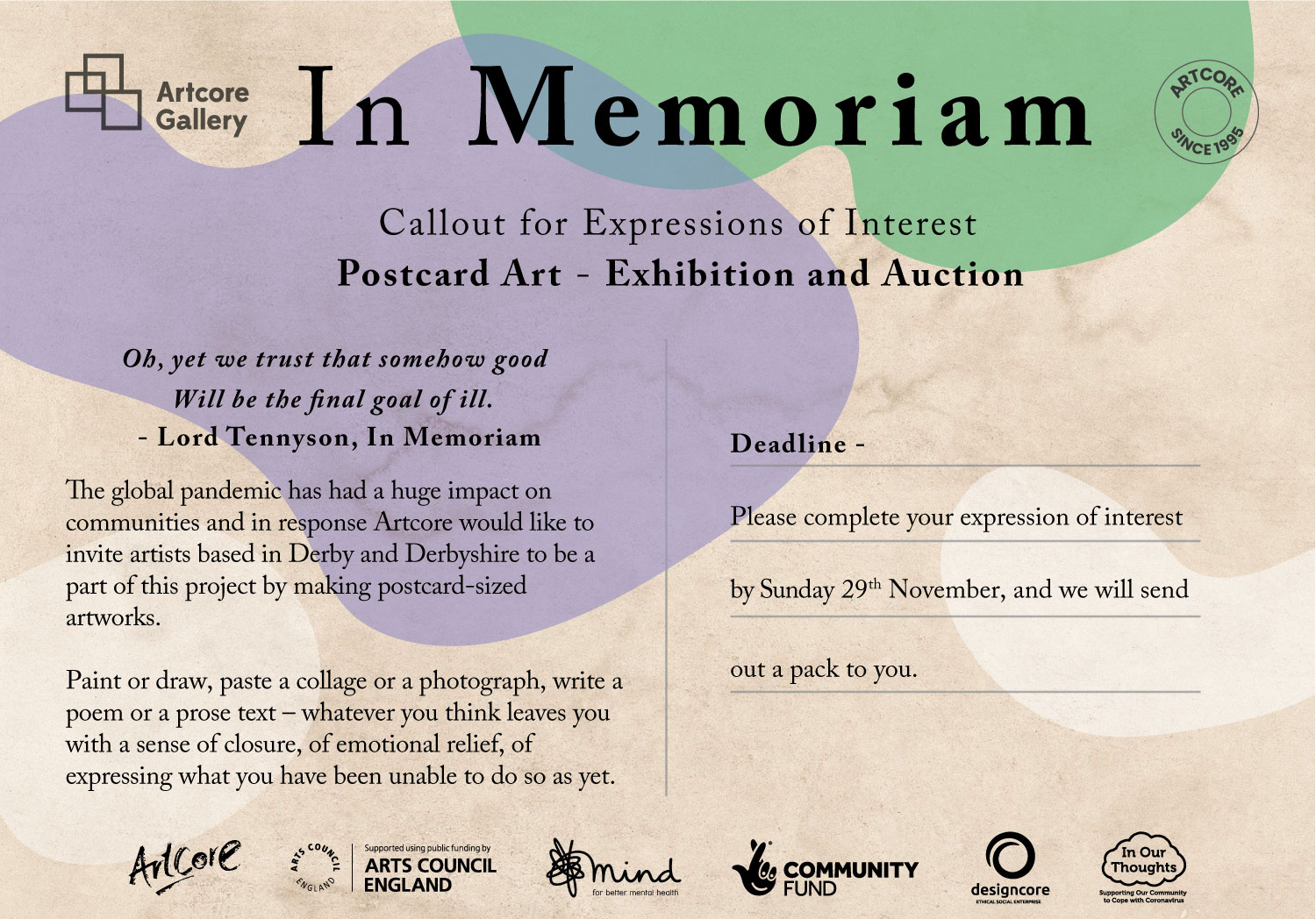 Finance Officer
Location: Artcore Derby
Position: Part-Time
Part time: 21 hours per week – with the ability to work flexibly

The post holder will be an experienced Finance Officer will be responsible for all financial aspects of the organisation.  You will prepare monthly management accounts with projections for future income and expenditure to allow the Directors and Trustees to plan ahead. You will produce cash flows and produce yearly financial accounts in conjunction with external accountants as well liaising with the accountants regarding the yearly audit. You will put in strengthened accounting and internal financial procedures to support the growth and development of the organisation and ensure we are meeting all our financial obligations.
This is an exciting opportunity for individuals looking to play an important role in supporting the charity Artcore.
To find out more about this exciting opportunity please download the job spec below.
Closing date for applications: 22nd November 2020
Anticipated start date for role: Immediate

To apply please send your current CV and a covering letter to info@artcoreuk.com or post it to Artcore, 3 Charnwood Street, Derby – DE1 2GT
Assistant Curator – Digital & Media
Location: Artcore Derby
Position: Full time fixed term for 6 months
Full Time: 37 hours per week – with the ability to work flexibly

The post holder will be working closely with our Artistic Director and programme producer with a background working in a fast paced arts environment.  Assistant Curator will be a creative and focused individual with some previous experience, knowledge and understanding of the visual arts.
They will be a highly motivated, passionate individual, with a resourceful and entrepreneurial approach to their work.
They will lead on digital programming – both across our planned programme and developing new projects and content, and new partnerships – and will have skills and knowledge in the production and distribution of digital work, as well as supporting the onsite programme.
This is an exciting opportunity for individuals looking to play an important role in supporting the organisation.
To find out more about this exciting opportunity please download the job spec below.
Closing date for applications: 15th November 2020
Potential Interview dates: 18th November 2020
Anticipated start date for role: Immediate start

To apply please send your current CV and a covering letter to info@artcoreuk.com or post it to (Artcore, 3 Charnwood Street, Derby – DE1 2GT)
Artcore Associates
(Closed)
Artcore Associates Callout – Join Artcore's Associates Pool
Artcore is a dynamic and developing Contemporary Visual Arts organisation with two bases in Derby.
Artcore delivers 10 exhibitions & 4 artist residencies annually, with a vibrant workshop and participation programme and projects engaging with the communities of Derby. Established in 1995 in Vadodara, India, Artcore moved to Derby in 2005, became a registered charity in 2012 and an Arts Council England NPO in 2018/19.
Artcore wants to expand and diversify our pool of associates, and we are looking for creative people from a wide range of backgrounds with a range of skills – artists, makers, workshop leaders, project managers, exhibition technicians, designers, and probably a few other things we haven't thought of yet.
Our Associates will get to hear about freelance opportunities first, and we are also keen to co-produce projects, events and exhibitions, so we also want to hear from potential Associates who will bring exciting creative ideas to us, which we can work with you to develop.
How to Apply:
First, have a look at our websites – Artcore Gallery (https://artcoregallery.org.uk) and Artcore (https://www.artcoreuk.com) – so you can find our more our history, our ethos, and the kind of things we do. Feel free to get in touch if you would like to visit us or for an informal chat.
Next, write us an expression of interest telling us about your skills, experience and knowledge. You should tell us about specific exhibitions, events and projects you have been involved in, and tell us what your role was in them.
Your expression of Interest should be a maximum of two sides of A4 and tell us the following:
Why would you like to work with Artcore? Are there any of our projects or activities that appeal to you the most?
What have you done previously that you think best matches up with Artcore's ethos and projects? Tell us about any projects, exhibitions or other activities you are especially proud of, and what your role was in them.
Is there a particular role you see yourself in, and are there specific skills that you could bring to Artcore as a member of our Associates Pool –  e.g. artist, designer, exhibition technician, project manager, producer, workshop facilitator …
Where are you based? We work mainly within the City of Derby, so ideally you will be within easy reach of Derby.
Send us your CV as well, with a link to your website – if you have one.
Deadline:
Please send your expression of interest and CV to us by 5 pm on Monday 31 August. Once we've looked at them we'll invite you to come and meet us either in person or online for a short interview.
If you'd like to have a chat or visit before you apply please contact us by email at: info@artcoregallery.org.uk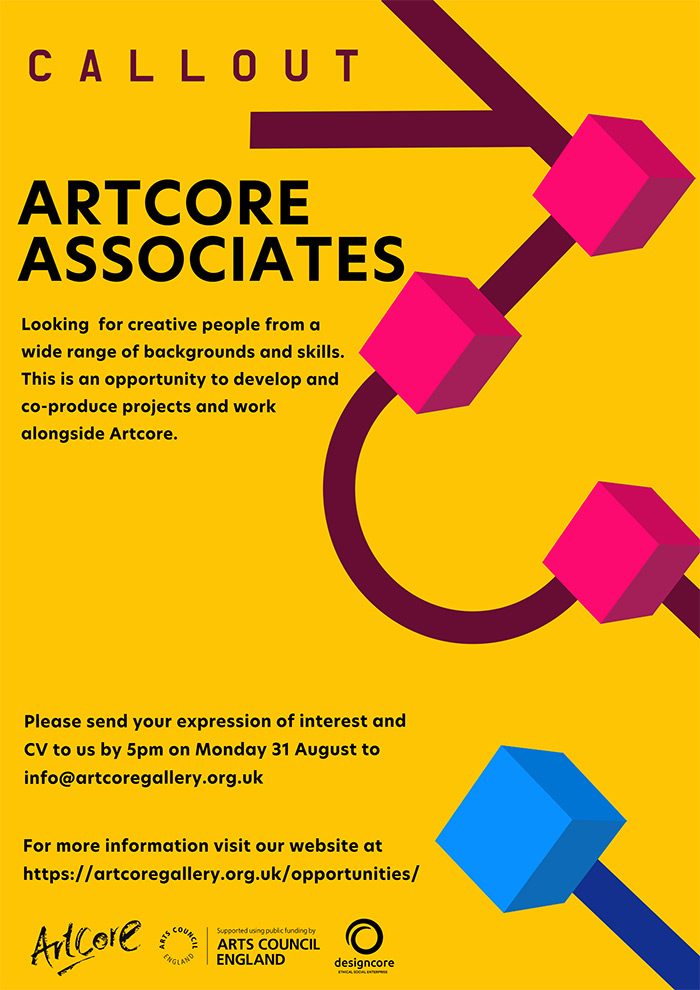 Present Tense – Future Perfect?
(Closed)
Artist Residency and Exhibition Opportunity
Residency: 28 September 2020 – 20 November 2020
Onsite Exhibition: TBC
Online Exhibition : 27th November 2020
Deadline for submissions: Thursday, 20 August 2020
Artist's Fee: £1,000 per artist for 2 artists

Post-pandemic, this will be our first physical residency at Artcore Gallery in Derby. Learning from the experience of our 'Error & Power' residency-from-home and online exhibition, 'Together in Isolation', our series of online exhibitions responding to the changed world we abruptly found ourselves living in when lockdown began, and our success in reaching audiences digitally, we would like artists to make work across both physical and digital platforms, recording and broadcasting both live and recorded material as the work progresses.
Through the residency we want to give two early-career artists the opportunity to make new work dealing with the tensions caused by the current uncertainty and looking forward to a brighter future.
The Residency Opportunities:
We are looking for two artists to take up supported residencies with Artcore, responding to the title 'Present Tense – Future Perfect?'.
'The past is a foreign country: they do things differently there.'
The famous opening line of L. P. Hartley's novel The Go-Between, published in 1953, speaks of the problematic nature of memory – personal and collective – and the subjective nature of history. Both memory and history entail the telling of stories which are at best half-remembered and at worst cynically misrepresented, especially when the voice is Western and its position one of assumed superiority, and the re-telling perpetuates systemic racism and prejudice. Statues have suddenly and unexpectedly become the focus of conflicting accounts of history, sharply illustrating the dangers of symbolically commemorating actors and actions that shaped a past that should be a cause for shame celebration.
But what of the future – is that, too, a foreign land, and will we do things differently there? In a very real sense we will become a foreign country in January 2021, as we finally sever ties with the European Union, so how should we break free from the mistakes of the past and what monuments to the future should we build?
Nothing changes, and at the same time everything changes: since March we have lived in limbo, somewhere between the past we thought we knew and the present we were expecting, and now the future we dreamed of seems to have changed beyond recognition. In The Go-Between Hartley's main protagonist and narrator, Leo, looks back fifty years at the suppressed memories of his past.  He recalls the events of the year 1900 – the momentous turn from the Victorian past to the unimaginable upheavals of the 20th Century. The story of Leo's lost innocence highlights the modern experience of broken time, a condition in which humanity is on one hand alienated from the past, yet on the other cannot be free from it.
Noam Chomsky says, "Optimism is a strategy for making a better future. Because unless you believe that the future can be better, you are unlikely to step up and take responsibility for making it so." We believe that artists can and should take responsibility for creating a strategy for a better future, and we would like to hear your proposals for doing so.
We are offering each artist:
An Artist bursary of £1,000 to produce work for exhibition at Artcore Gallery and on-line
An Artist blog and digital platform throughout the residency to share the progress of the work
Residency space at Artcore
A chance to deliver artist talks at Artcore Gallery and online
Mentoring and curatorial support throughout the residency
A catalogue – both digital and physical
Publicity and marketing support
Online Exhibition on our Website
Onsite Exhibition at our Albert Street Gallery.
We welcome applications from artists working in any visual arts discipline, and with a cross-disciplinary practice.
We expect artists to have a commitment to developing their practice, and to engaging in dialogue with Artcore and our audiences, and the wider international contemporary arts and cultural sector.
We welcome artists with an interest in how sharing online, using virtual space and working collaboratively can inform the development of their work.
Residency timetable: 
Deadline – Please send your submissions by midnight on Thursday 20 August.
Selection will be made by the end of August.
Residency start date: 28 September
Residency end date: 20 November
Exhibition dates: TBC
How to Apply:
Applications should be made through Curatorspace
https://www.curatorspace.com/opportunities/detail/artist-residency-callout–present-tense-future-perfect/4664
About Artcore:
Artcore is an international centre for contemporary art and creativity that is based in Derby, UK, and is home to Artcore Gallery, studios and work spaces as well as a shop and cafe. A vibrant hub for commissioning, production, presentation and debate, we offer opportunities for diverse audiences to engage directly with creative practices through participation and discussion. Here at Artcore Gallery we believe that contemporary art and creativity are central to the development of people and places. We have an extensive exhibition and residency programme which helps support early, mid-career and established artists to create work which deals with pressing social, political and environmental issues. Each year we welcome over 4000 people from all sections of the diverse communities of Derby to experience inspiring, innovative and high-quality exhibitions and events. Over 25 years we have developed links all over the world. This cement a global creative community and helps us support the aspiring artist into this contemporary world.
Our Location:
Derby has a developing visual arts culture, with galleries at QUAD, Derby Museum & Art Gallery and at Artcore, a University with Undergraduate and Postgraduate courses in the School of Arts, and much DIY activity across the City. Artcore has hosted two annual Visual Arts Summits and is the lead organisation in supporting the development of the visual arts ecology of Derby. The residency will take place at our Charnwood Street Building.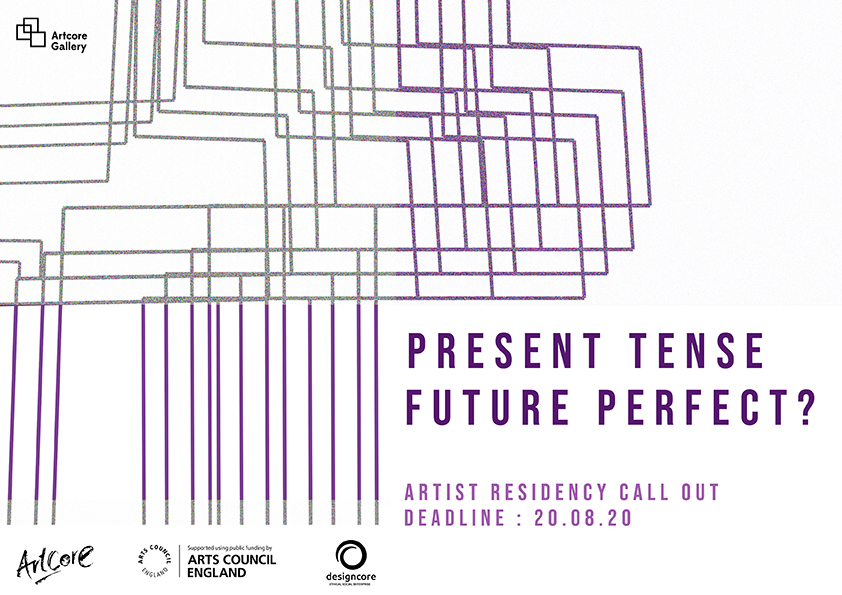 VOSAP Art from Heart Contest – 2020
(Closed)
REGISTRATION DEADLINE: 31.07.2020 
Please register to be able to submit works for this opportunity. 
About VOSAP
Voice of SAP is a global advocacy non-profit organization, promoting Empowerment of Specially Abled People (SAP). The 'Art From Heart' initiative is aimed at spreading awareness, bring out emotions, beautiful expressions of a creative mind, giving powerful message as artwork to promote inclusion.
Theme: Disability
This International Art contest will help participants and families to think deeply about 15% of the global population, considered Persons with Disabilities. During COVID19 pandemic, while stress levels are high, thinking of SAP may provide an opportunity to understand lesser-known aspects of the lives of Persons with Disabilities and get inspired to give a profound, inspiring message for their inclusion in society with best of artistic talent.
We urge participants to consider this theme of disability. They can portray emotions, anxiety, aspirations, dreams of a Specially Abled Person. Responses can also be related to real-life challenges faced in the society by Visually impaired, Mobility impaired, Hearing impaired or Learning disability of Specially Abled People (SAP).
Our judges for the professional artist category are of international repute. We have Amanda Lynn, Charan Sharma, Dr. Debashish Banerji. We also have very reputed artists as judges on the panel for aspiring artists – Dr Kamakar Datta, Bhavin Kothari (National Institute of Design) and Vaidehi Parekh (Art Director, San Jose)
This call-out is open to artists of all ages and stages of their career. There is $1000 prize for the winner of the professional's artist category.
To register click the link below:
https://www.curatorspace.com/opportunities/detail/art-from-heart–contest/4663
Follow VOSAP at:
IG : @vosap.official
FB: Voice of Specially Abled People
Website : https://www.voiceofsap.org/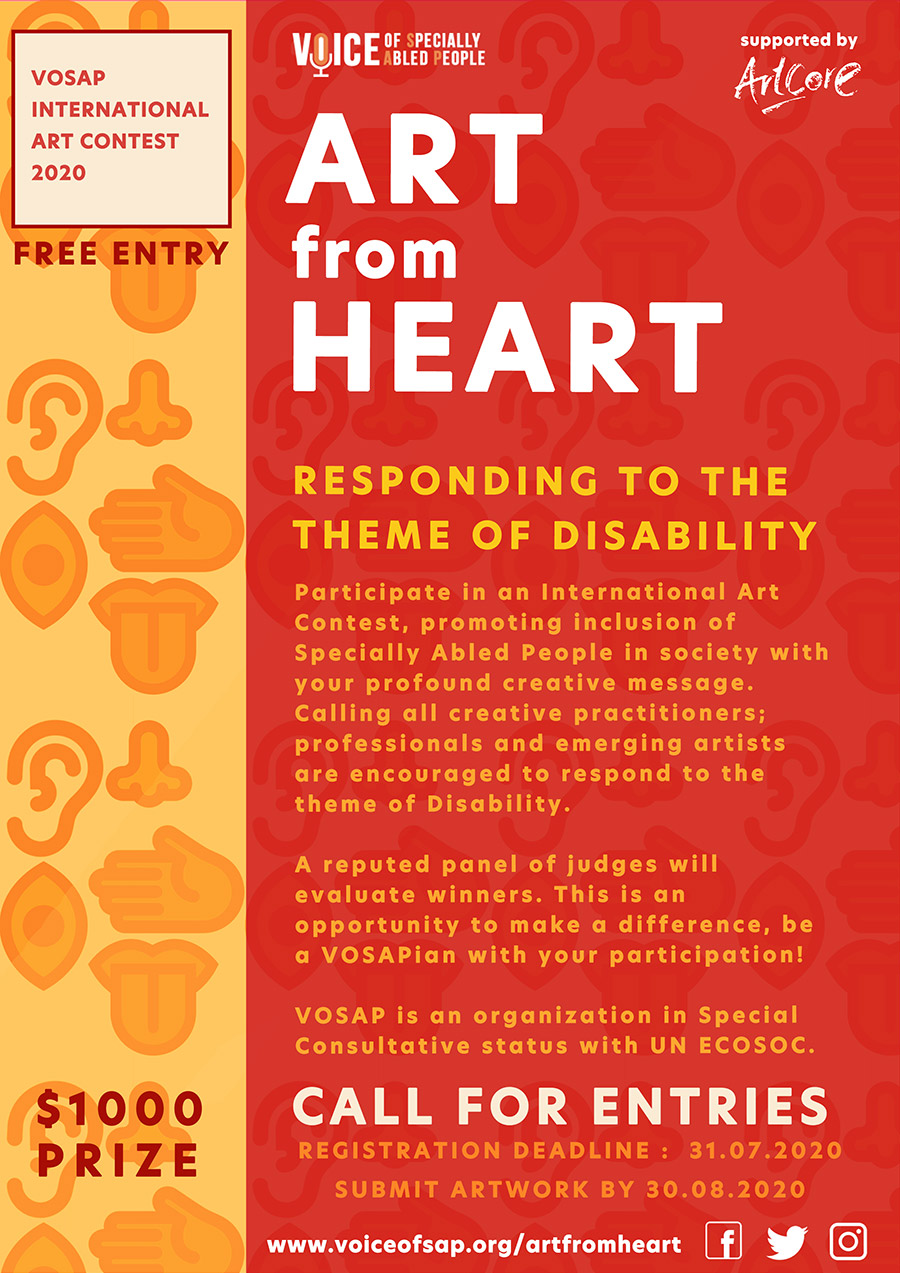 Volunteer Opportunities
Volunteering at Artcore can boost self-confidence and motivation. Working as part of our group will give you the chance to build communication skills, meet new people and learn how to work in a team. In terms of your career, Artcore can help your CV stand out from the rest. Volunteering shows commitment and passion, which are qualities that any employer will appreciate. Volunteers can gain official recognition for their efforts, for example in the form of a Inspired award. Artcore volunteers have been acknowledged by certificates and a fantastic job reference. Volunteering can open up exciting opportunities; in the past Artcore volunteers have obtained work placements in Italy, Malta and Spain.
Our volunteers contribute to the community and have the chance to make a positive impression on the lives of the people they work with. Volunteers have the opportunity to inspire people. Volunteering at Artcore will give you the opportunity to gain skills and confidence, expand your horizons and build new and lasting relationships.
If you are interested in applying for any of these positions, please send your CV to: info@artcoreuk.com
Artist
Volunteers will work on visual arts projects, working alongside other artists to deliver projects. Volunteers will gain experience working in a variety of mediums with a variety of people and experience different cultures and styles. Mediums used include plaster, clay, mosaic and painting. Volunteers must be enthusiastic, hard-working and motivated. An interest in art is essential. Experience of working in this field would be advantageous.
Fundraiser
A volunteer position is available for fundraising for a non-profit organisation
Administration Assistant
This is an exciting opportunity to work within a non-profit organisation as an administration assistant. The role entails providing general administrative support, greeting visitors and responding to a broad range of enquiries. Tasks will include drafting and sending out documents, taking notes of meetings and producing minutes, dealing with enquiries and maintaining the filing system.
Support Assistant
Volunteer to offer general support. Applicants are required to be flexible and work in all areas. This includes office based administrative tasks, housekeeping, and hands-on tasks.
Painter and decorator
Volunteers will carry out painting, decorating and hands-on tasks at Artcore premises. These will include building maintenance, preparing exhibition space and installing the exhibitions themselves.