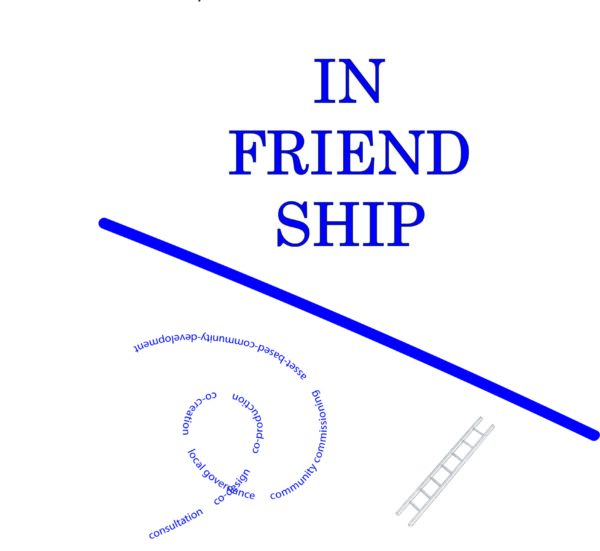 To design in friendship:
to occupy as planner/designer the position of friend, of ally, supporter, to the publics/communities you design with and for.
To design for friendship:
to design a space that enables the development of new, and maintaining of existing friendships (with others) and also with ones self: self friendship, self care.
For the duration of my residency I will be exploring the question of what it would look like to design in and for Friendship, taking leave from the proposed renaming of Osnabrueck Square to Friendship square.
It is a question I am really excited about,
especially around the idea of designing in friendship*, an idea introduced to me through the work of Celine Condorelli, via my good friend.
To design in friendship feels like a radical break from the 'co-' continuum we have been on for awhile now – co-design, production, creation** – with the relationship between the 'co-'s involved never clear, for better or for worse.
To be a friend: an ally, supporter, to take (to share?) responsibility, this is clear.
Less room for confusion, for co-option – as 'co-' has found itself subject to.
It feels to me like entering into a completely new frame.
Critically interrogating participatory planning processes, wanting to understand how you could better on them and how you might employ creative practice to open up discussions, is where I started my work and is a place I am grateful to be returning to.
If you would like to join me on my research journey please get in touch, I am excited where it will take us.
hawkins.katyg@gmail.com
* Specific to formal urban planning processes but transferable further afield
** See main image for spiral of my journey into these processes, along with a representation of Sherry Arnstein's 'Ladder of Participation'