TESTIMONIAL: KAIPO CHE! RESIDENCY
The Kaipo Che! Residency was one of the best residencies I have been involved in. It surpassed expectations in many, many ways: in the level of interaction with India-based artists; the residency spaces and location; opportunities to experience the wider culture of Baroda and other nearby Indian towns/villages. Most importantly, there was an incredibly hospitable and welcoming atmosphere throughout, and it was a pleasure to spend time with everyone involved.
REPORT: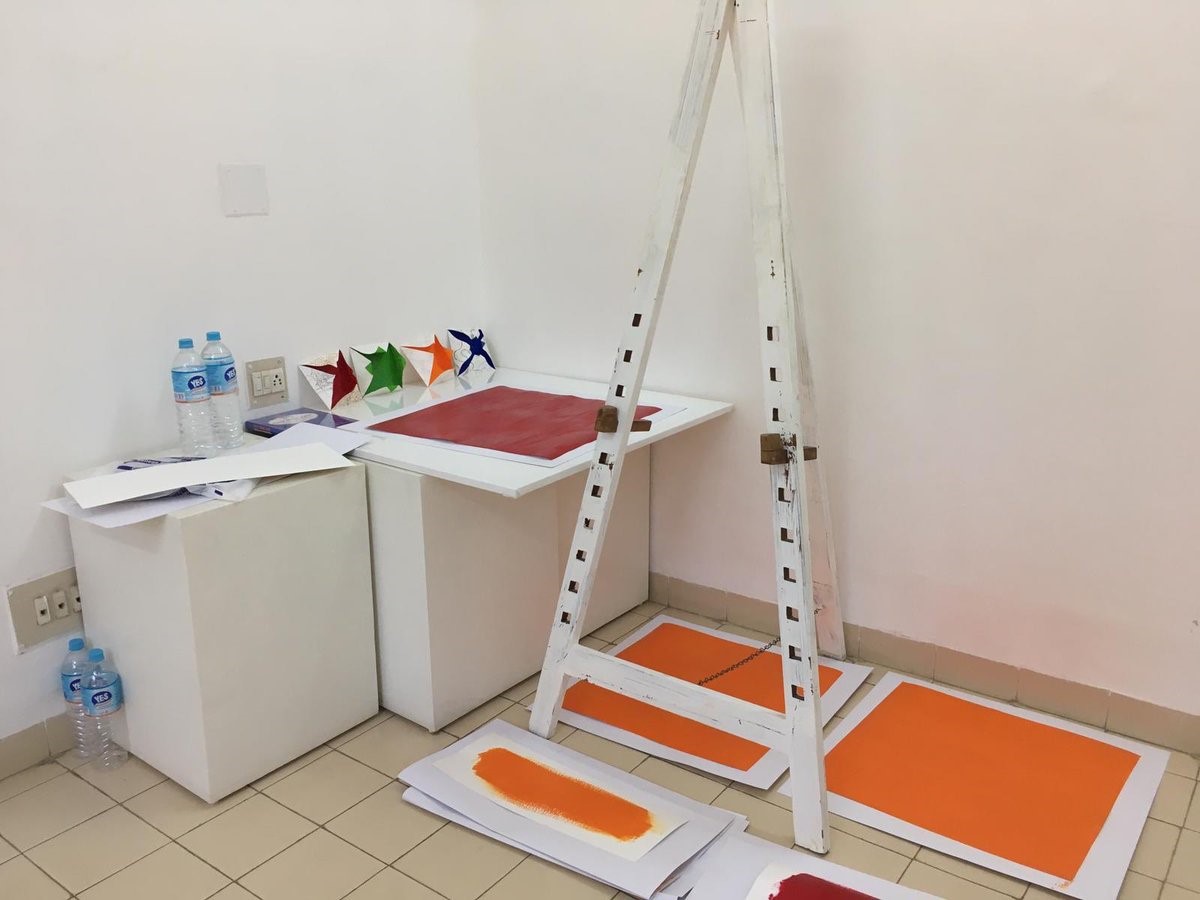 Residency space and resources
Thoughout the residency, Artcore put in place all the resources needed to create work. All art materials were supplied and any technical assistance needed was given. They were proactive and responsive to artists' changing needs. The studio spaces were large, full of light and very comfortable. They were peaceful spaces for quiet reflection in a busy schedule.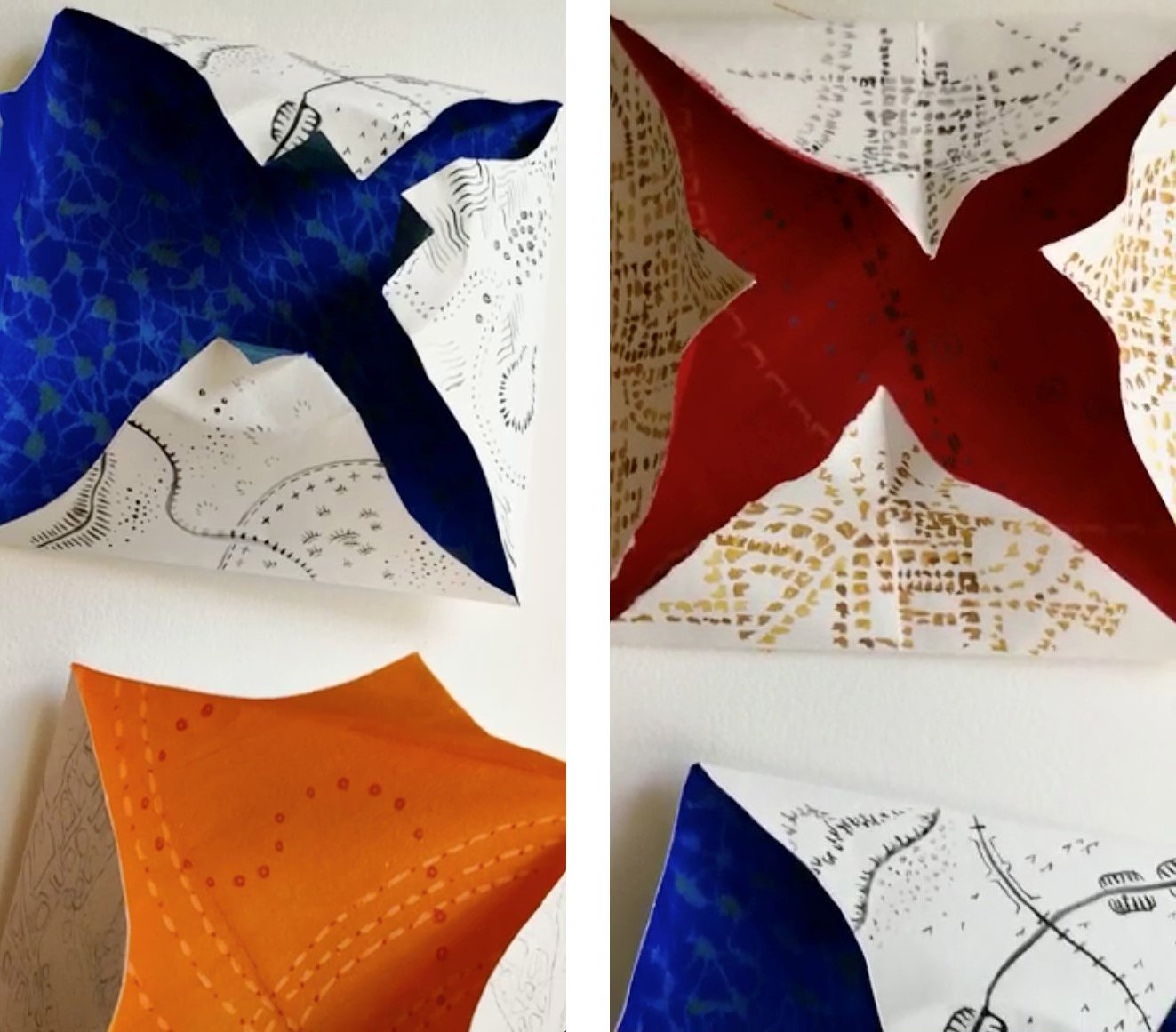 My Practice
I was surprised by the work I made, it was definitely a new direction for me in that it was quite a personal and autobiographical response. The paper sculptures were directly informed by being in Baroda and my experience of India both past and present. I feel that there is potential to take some of the ideas forward back in the UK. I would also welcome a chance to continue dialogue with artists in India and will explore possible opportunities for them to visit UK.
Residency Exhibition
The exhibition at the end of the residency was very well curated in quite a short time frame. The opening itself was well attended and I met and talked with artists, curators, journalists and staff from Baroda Art School. Artcore's strong links with the local artist community played a big role in this. The exhibition was featured in the Times of India and local papers.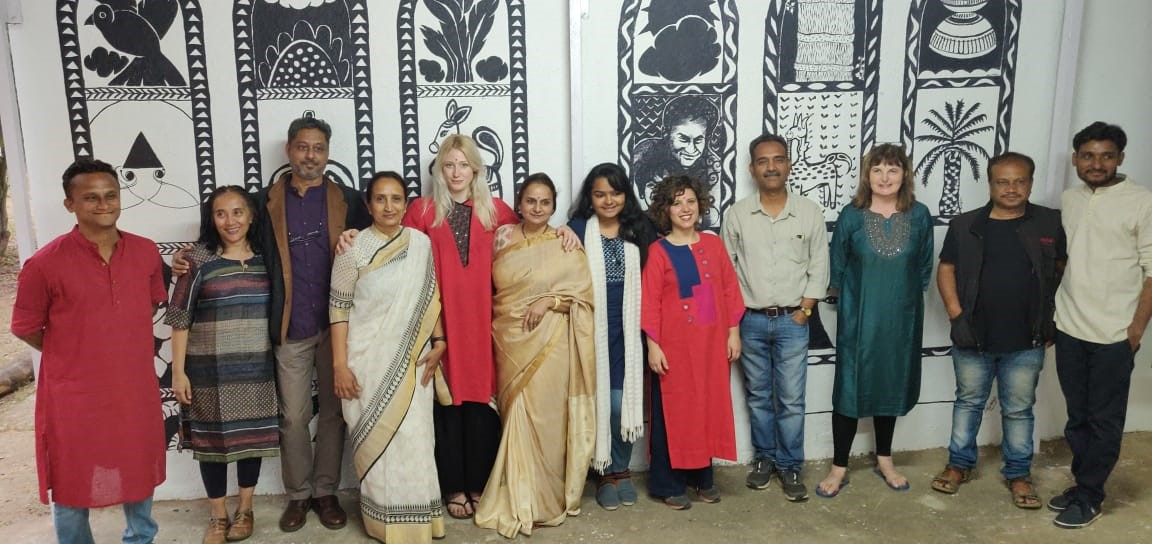 Meeting and working with Baroda based artists
From the start of the residency, interaction with Baroda/India-based artists was integral to everything. It was part of the structure of the residency – whether we were making work side by side in the art centre, presenting our work to each other, our discussions at breaks and meal times during the day. Throughout the residency, communication and dialogue was free flowing between all artists in a relaxed and informal manner.
Artcore has very strong links with the artist community in Baroda because Zaheer and Ruchita have studied and worked here. Furthermore the curator and critic Sandhya Gajjar, who was involved in planning the residency is Baroda based. These connections ensured that we met a very wide range of India-based artists including painters, ceramicists, print makers and sculptors who were all practicing at a high level in their careers. It was a privilege to work with them and an invaluable opportunity to meet them. Conversations with them gave insights into the contemporary art world in India. I have exchanged contact details with many and hope to continue dialogue with them.
Furthermore, Artcore has established links with the Baroda art school – which has a reputation as one of the best art schools in India. We were invited to give a talk to students at the university, and afterwards students approached me to find out more about my work and to tell me about their own practice. This was a fantastic opportunity to discuss with young emerging artists what life as artists was like for them in India. Lastly Indrapramit Roy, Head of Fine Art was interested in my recently completed PhD thesis which I have sent to him following my return to UK. We will stay in touch via email and I hope to do the same with all residency artists and have exchanged contact details with them.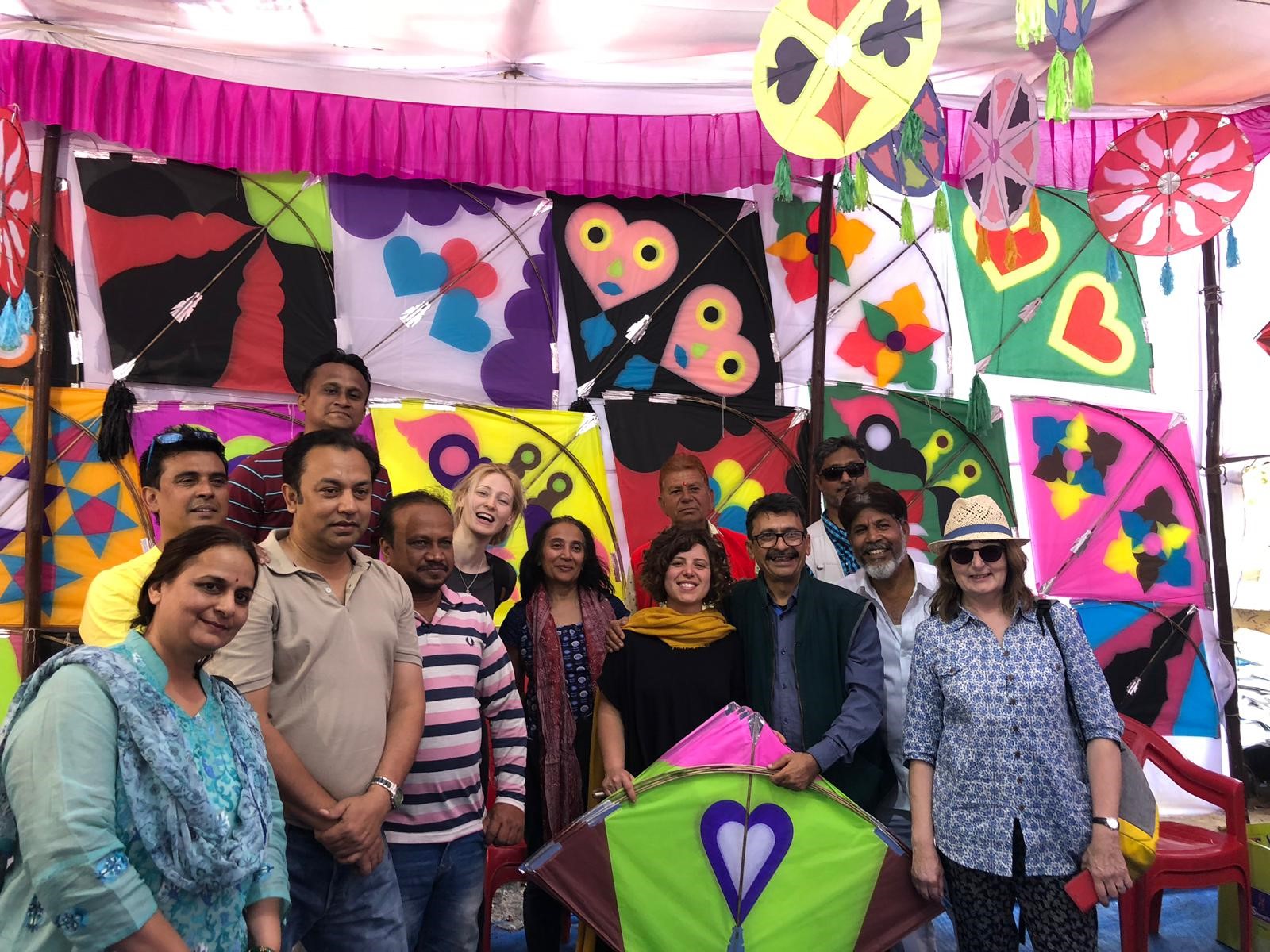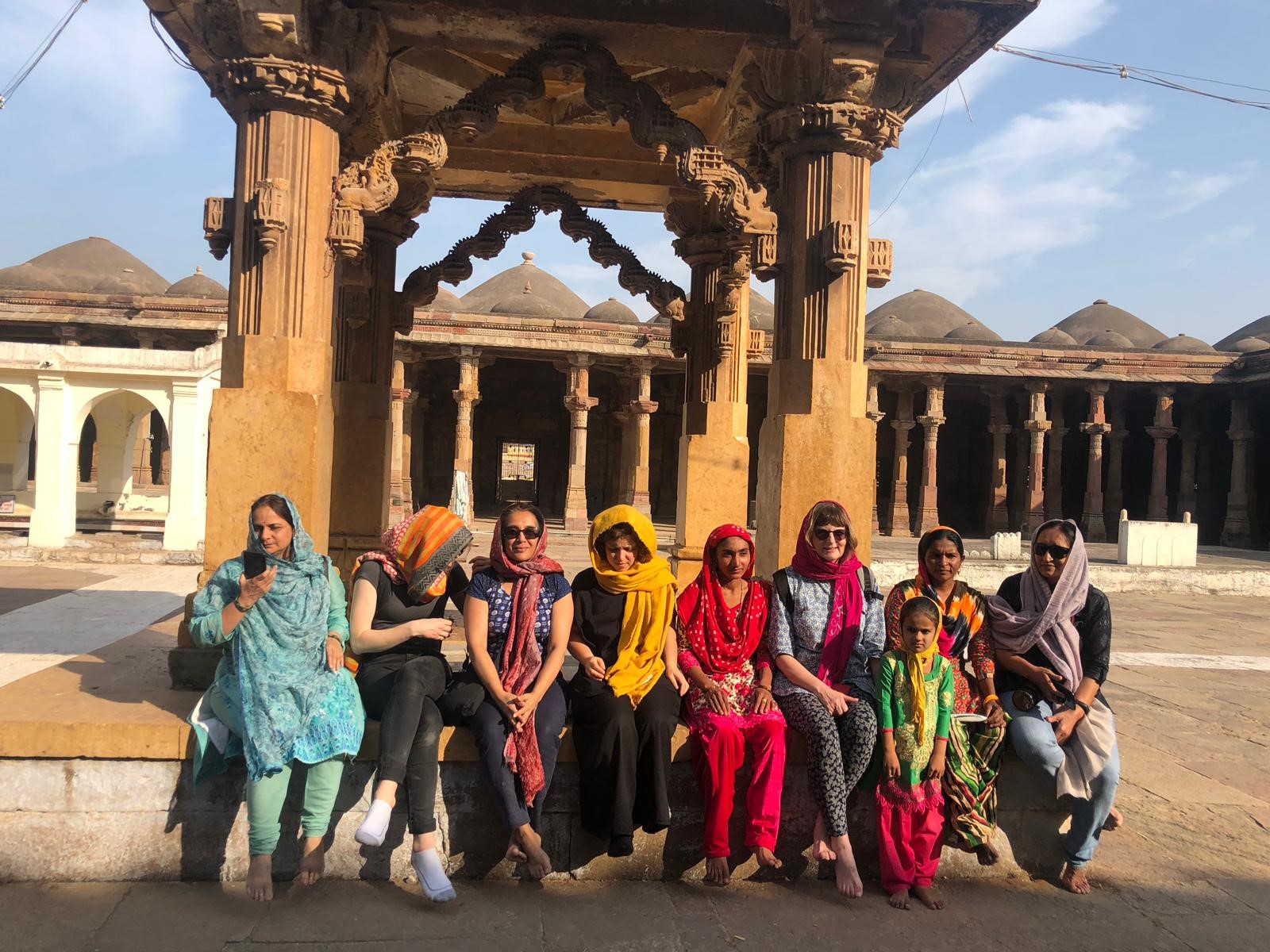 Baroda wider culture
The Artcore team made use of every possible opportunity to give us an experience of the wider culture in Baroda and India. We visited galleries, artists studios, met curators and gallery owners. We saw crafts traditions such as block printing wokshops. Day trips to see local towns and villages allowed us to experience outside the urban area we were based in, and to see historical buildings such as traditional, intricately carved wooden farmhouse buildings and a 13th century mosque. We took part in dance celebrations and the kite festival on the roof tops with local people and artists. We imbibed the atmosphere of Indian traditions by participating in them!