Where are you based?
I'm a born and bred Londoner. I live in Bermondsey and have a studio in Woolwich, right next to the Thames Barrier… that I scoot to on my little Vespa!
How did your artwork start out?
My interest in art actually started in painting at school, but over the years I became more influenced by live theatre, performance and set design. This in turn gave way to an interest in 'the object' and especially the object within certain theatrical environments.
How do you get ideas for each piece of art?
If I'm preparing for an exhibition, the exhibition space itself is always a source of inspiration for me. The less conventional the better, as the more I can embrace my inner set designer and transport my audience away from the confinements of the gallery space! However, at the moment I'm exploring the concept of 'flow', both the psychological meaning as well as the physical meaning. Because my work is immersive in experience, I've become interested in the process of immersion and how it manifests. 'Flow', is known colloquially as being 'in the zone'. It is the mental state of operation in which a person performing an activity is fully immersed in a feeling of energised focus and enjoyment in the process of the activity. It can be characterised by complete absorption in what one does, and a resulting loss in one's sense of space and time. Space and time (not to sound too Star Trek) has often been at the starting point of every piece. My father graduated as an aeronautical engineer, so I've always been intrigued by floating objects in space and playing around with the element of gravity within my work, which normally manifests itself as a timed performance. Therefore my work ideas really do sit in-between fact (science) and fiction (cinema).
How do you go about transforming an idea like that into a physical piece?
When I graduated from The Royal College of Art in 2016 my degree-show piece was using this element of space and time, in quite a cosmic-looking way. As I mentioned, I'm interested in gravitational pulls within my work and I subsequently built a tall wooden storage crate and filled it with white helium balloons… the irony wasn't lost on me! The audience would then enter this crate; of which the insides reflected a traditional white cube space, and watch as the balloons hovered above their heads, almost caught in a time continuum. The science behind the piece is that I was interested in the point where the weight of the object (balloon) balanced out the amount of gas within it. When this equilibrium was found, the balloon finds a static position in mid-air. To create the piece, I blew up groups of balloons individually and entered them into the crate in reverse order. I timed the inflation of the balloons as to when I thought the audience members would step inside the crate: up to 18-20 hours later. Therefore creating the optimum moment for the viewer to see this cosmic constellation.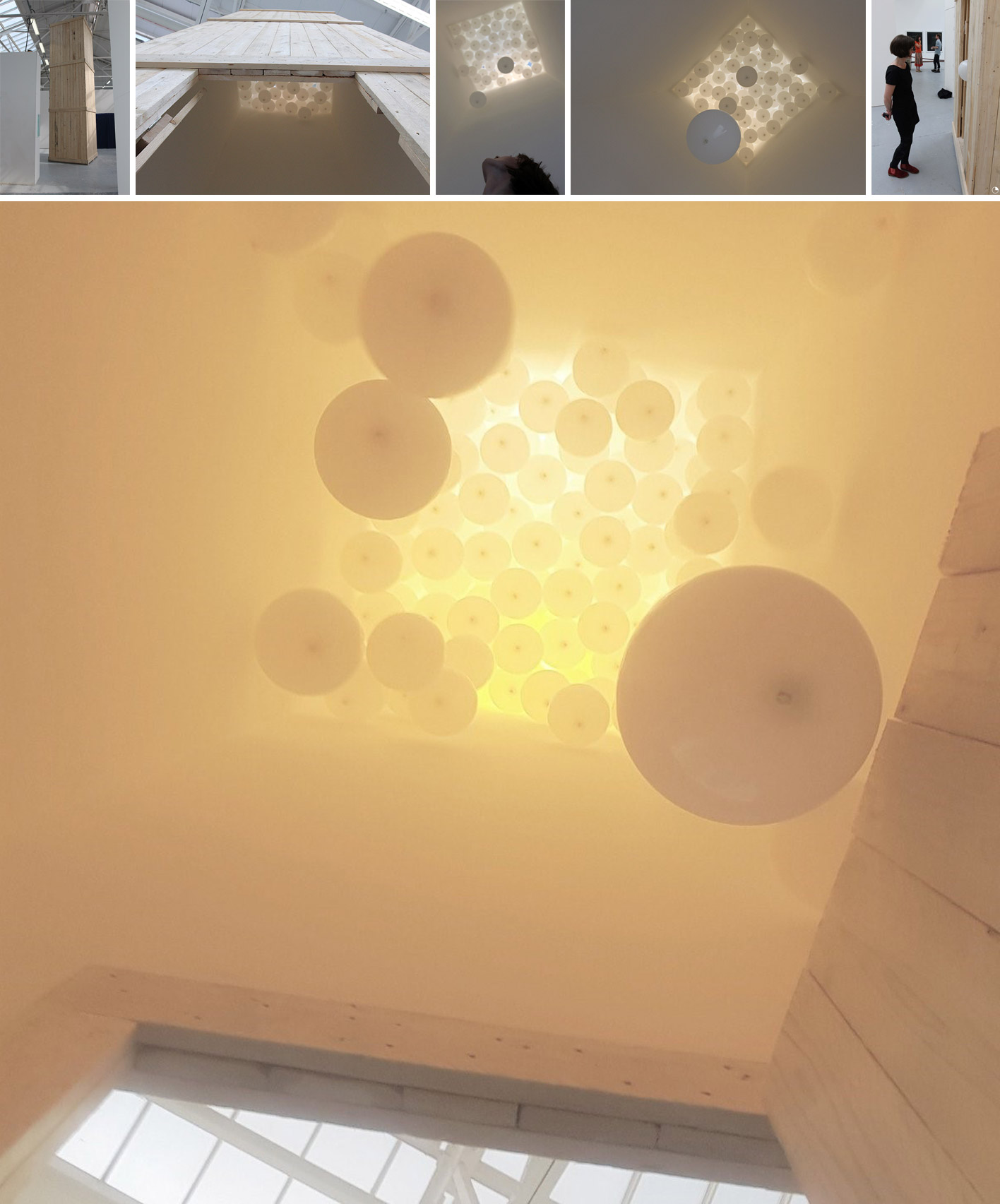 Images from installation 'Tell the King', 2016 (plywood, wood paint, plasterboard, latex balloons, helium gas, netting, electric lights)
A more recent example is an exhibition I did in Deptford summer 2018. This was my first exploration into the concept of 'Flow'. I was working with images captured by 1960s wind tunnels and was therefore looking at the revealed wind-flow patterns around these objects that were placed in the tunnel. I was fascinated in unveiling these 'air markings', as something that isn't normally seen by the human eye. They are mesmerising images, capturing a fleeting moment in time. I wanted to replicate the ephemeral nature of these air stream configurations, so I used a chalk-pen to transfer them onto glass using a pointillism technique; knowing full well that a single wipe and they would disappear. I used neon lights to represent the object powering through the space, leaving its momentary markings behind. This intense and time-consuming technique in turn brought me into my 'flow', as a concentrated meditative state.
Alongside these glassworks I built a geodesic dome (that's the inner set designer again!) with the top of the dome unsealed, rather like the top of 'The Shard'. I timed a smoke machine to go off every 10minutes, for 30 seconds, so that the smoke seeped out of the ordered structure. The dome was situated under a skylight, where by the light perfectly framed and highlighted the swirling, billowing, delicate and illusive smoke waves. This gave the viewer a new focus on the seemingly invisible air around us, which in turn reflected the glass works.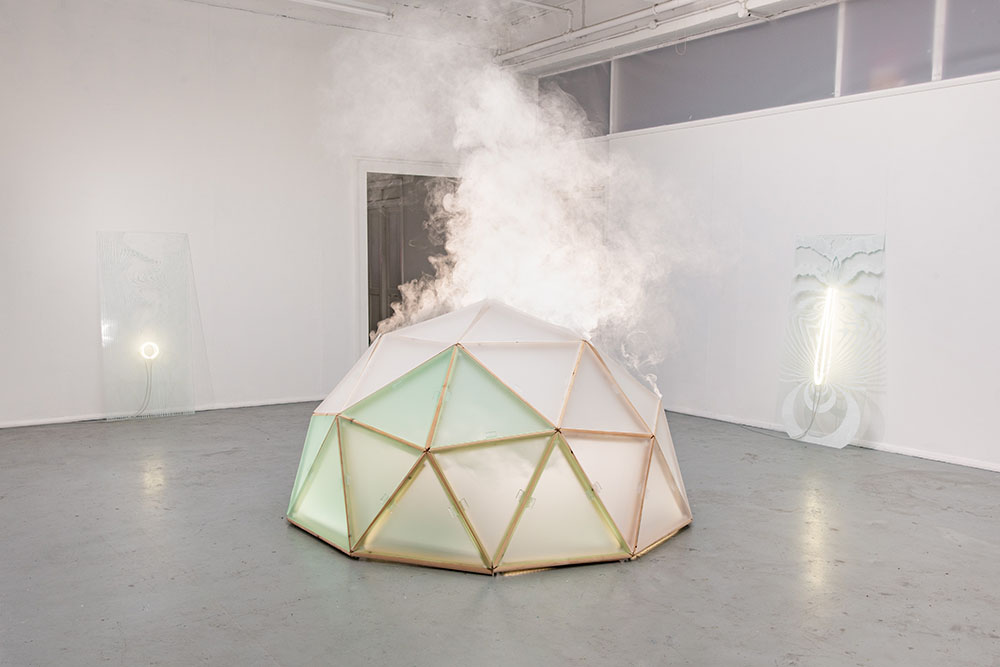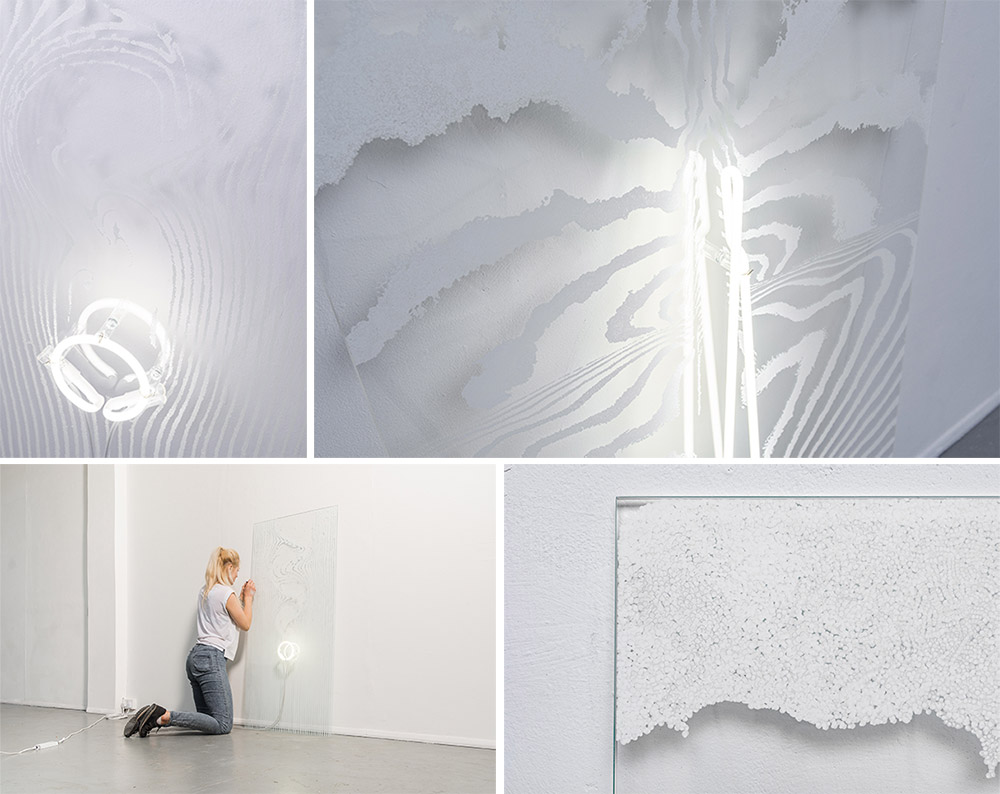 Images from 'Impulsive motion of a circular thingamajig through a boundary layer, normal to itself' 2018 (geodesic dome hubs, ply-wood, frosted Perspex, Perspex hinges, smoke machine & timer, UV lights) & Creeping Flow (tempered glass, white chalk ink by hand & circular-shaped neon) & Laminar Flow (tempered glass, white chalk ink by hand & tear-shaped neon)
How has your art evolved over the years?
My practice has definitely seen the 'live element' increase over the years. My work has always embraced minimalistic sculpture, but 'the figure' has become more important as a component to 'active' or 'respond' to the sculptural work. This figure can be an audience member exploring the work or even a performer with a fixed agenda. As a singer I've only recently started experimenting with vocal work too, to explore how sound can accompany sculpture and help to transport the viewer to an otherworldly realm. The use of light has always been an important part of my work in order for me to create drama or viewer intrigue. I've found myself more and more being fascinated by an exploration of light through different types of materials: whether it's plastic, glass, cardboard, wood – creating a soft dappled light or dramatic patterns to compliment my clean aesthetic.
What does your art aim to say to your audience?
My art has always wanted to transport my audience – similarly to the theatre when the lights go down at the start of the show, there's a period of time where you've not quite left reality, but you're not quite sold into the fantasy yet. It's this in-between state which I've been interested in throughout my career. A type of 'stepping over the threshold', a 'state of flux' or 'liminal state'. Science helps me to be playful with my audience and enhance the sense of illusion within the work. For example, my flying man video work, 'Flux', aims for the audience to question the reality of this hovering figure.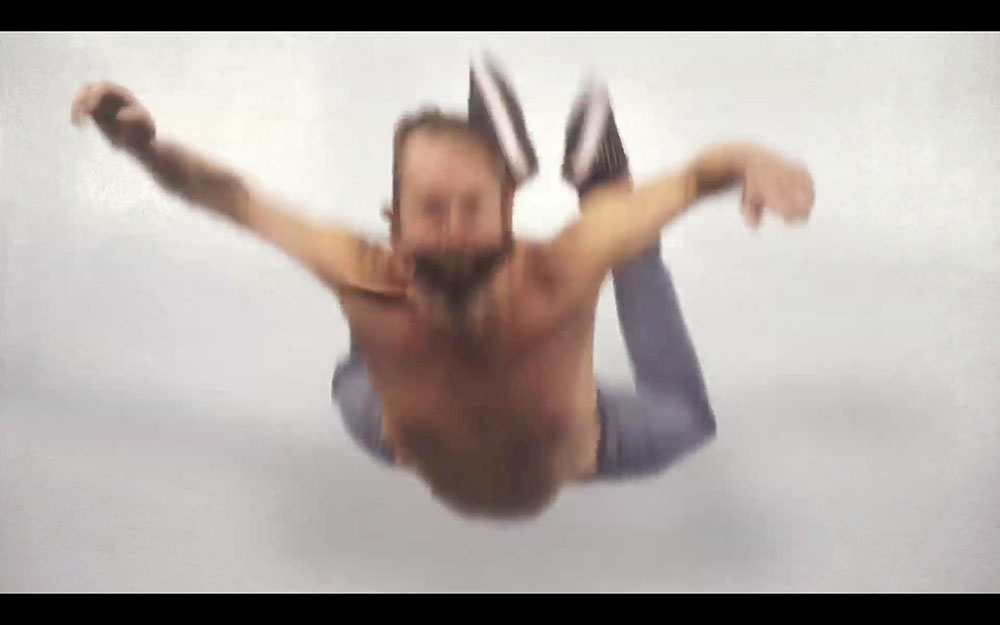 Film still from 'Flux' video work, 2017
What is the most challenging about your work?
The live element brings a lot of challenges, as there's only so much you can control. Documentation is really key, as it's those unique moments that you're trying to capture. It's also challenging to predict your audience and understand what they're going to want to explore or react to within your work… but maybe that's part of the fun!
Where did you get your ideas from (what, if any, sources did you use)?
My ideas come from films, theatre sets… there's an immersive theatre group called Punchdrunk which have been a real inspiration for me over the years, due to their interactive performances – audiences wonder around a huge warehouse soaking up the narrative and mystical atmosphere. It's magical! I'm also influenced by the design world and in particular lighting design. Jorge Pardo has always been an inspiration of mine as his work explores the intersection between the art world and the design world.
How and when you have decided to investigate themes like the aesthetic of suspension, through a physical play with gravity, as well as the metaphorical notion of creating a suspended disbelief or wonder?
Gravitational suspension has always evoked a real sense of wonder in me: from Chihuly's dazzling glass chandelier sculptures that I first saw in Jerusalem in '99, to this past summer's beautiful and ambitious painterly 'Belt & Road' installation by Samara Scott, which was hung over Glasgow's Tramway space. I've always incorporated a play with suspension to give my work that otherworldly feel. As I mentioned before it's the theatrical sense of becoming caught between reality and fantasy that I'm interested in, hence the metaphorical notion of a 'suspended disbelief' within the audience.
What is the most interesting or inspiring thing you have seen or been to recently, and why?
2 things spring to mind…
Probably not the most recent, but one event that's forever remained in my mind is that I was invited to the 'Soup for 100' supper at the Foundling Museum in 2013. It's an annual event on 5th November in which 100 creative people from all disciplines and generations come together for a bowl of soup and animated chat in the convivial spirit of the 18th-century dinners thrown by the Foundling's founder Thomas Coram, which similarly brought together the philanthropic creatives of his day. The experience brought about a melting-pot worth of ideas and conversations. I was sat next to Richard Wentworth, a former Foundling fellow and Head of Sculpture at the RCA. It was a magnificent evening and all of the guest supped hearty bowls of veg soup in the museum's splendid dining room under the benign eyes of Hogarth's magnificent portrait of Captain Coram.
One other moment was encountering Swedish duo Natalie Djurberg & Hans Berg's collaborative work for the first time at Boston's Institute of Contemporary Art. Djurberg is an animator and Berg is a DJ and this was one of their first collaborations together called 'World of Glass'. The installation manifests in a mesmerising yet absurd world, full of long banqueting tables of 'glass' sculptures, 4 walls worth of provocative claymations and sound which ties the 2 dimensional and 3 dimensional together in a Narnia type realm. I was lucky enough to see an artists' talk with them that day and then later on that year, their solo show at London's Lisson Gallery. Here they had progressed their collaborations further and developed neon lights that would jump and flash in time with their music. It was a point where I wanted to bring sound into my work, so it felt like a pivotal moment in the reflection of my practice.
Which other artists' work do you admire, and why?
There are certain artists that inspire me…
Gregor Schneider's 'Die Familie Schneider' is a piece that will be forever etched into my mind. I saw his London installation, commissioned by Art Angel, when I was in my first year of degree, in 2004. He rented 2 houses near Aldgate's east end and turned them into replicas of his family home. My mother and I went to collect the keys from the art organisation and let ourselves into the houses individually. We both had 30mins to look around one house each and then came out, swapped keys and had a chance to look around the 2nd house. The astounding revelation is that both houses were completely identical, with twin actors inside each of them. You were essentially a walking ghost, as the actors didn't acknowledge your presence and you had the opportunity to nosey round a stranger's house – uninvited. It was like a live psychological thriller.
Louise Bourgeois' sculptural works have certainly made an impression on me. I saw her retrospective twice – once when I was living in Paris in 2007, at the Pompidou Centre and then once again in London, at the Tate Modern, the following year. I particularly like her large-scale installations and the way she uses different kinds of sensual materials and lighting to evoke such oppressed emotions.
Cornelia Parker is also an artist that has inspired me over the years. 'Cold Dark Matter', speaking in terms of physical suspension and the use of light for dramatic affect – friezing a moment – has had a lasting effect on my practice.
Lastly I studied James Turrell when I was doing my original BA thesis, when the 'light art movement' was being recognised. His exhibition at Yorkshire Sculpture Park, to coincide with his permanent installation of The Deer Shelter, was like an out of body experience. He propels you into another world where you're constantly negotiating your body. His work will always enchant me and test the boundaries of space. I was also lucky enough to go to Germany to see one of the first exhibitions dedicated to 'Light Art', of which he was featured.
How do you see Kaipo Che! Residency, as an experience, to support your career?
The Kaipo Che! Residency is my first residency! I've never been to India before so to go somewhere that's outside my comfort zone and embrace new artists, ways of working, sights and sounds, will just be transformational! I work in a way that emulates 'a designer' – so to get the balance right between planning for the final piece, but also embracing new influences and direction within the finite period you have to create work, will be a really interesting experience. I just want to make the very most out of this unique opportunity!
The chance to collaborate with other artists is a really exciting prospect here. What I miss about my student days at The Royal College is that valuable peer group. I love the idea of establishing such a unique group out in Vadodara! The chance to learn new techniques, new outlooks and new ways of being creative, is something that can really have a profound affect on your practice forever.
India is such a rich country for the arts and as Baroda is such a creative hub, I'm really looking to collaborate with women's groups, as well as music groups and also try my hand at traditional embroidery.
I can't wait for the kite festival! The main thing that attracted me to the residency was the kite-flying element. It relates back to my work regarding suspension, the science and the playfulness just beautifully. It also reflects on the two definitions of the word 'flow', that I'm currently exploring.
What's next for you in the future?
I've actually been lucky to secure another residency at Farnham's University College of Arts. The students run a project called 'the black box residency' where they select an established or emerging artist to spend a week creating a work, which will feature in a black shipping container on the campus site. I'll be doing an artist's talk for the students too. In May, one of my films is also going to be used in a Danish show in Aahaus, curated by my RCA colleague Mette Boel and in June I'm also talking to Imperial College's aeronautics department about a collaborative workshop for their annual Exhibition Road Festival – so it's shaping up to be a very eventful start to 2019!
Caroline Mackenzie
(W: www.carolinemackenzie.com, I: carolinemackenzie_studio)