Through this residency I want to focus on working with two dimensions, as it is something that I have
not developed in my practice yet.
Moreover, since last week I did a lot of work with sketchbooks. I recomposed and reorganized images
that I took from my walk in Derby. I extracted shapes and represented them as an installation,
combining sculptural processes with architectural references.
The colour palette that I use is simple and minimal, such as black, white, brown and gray, with
references to architectural materials.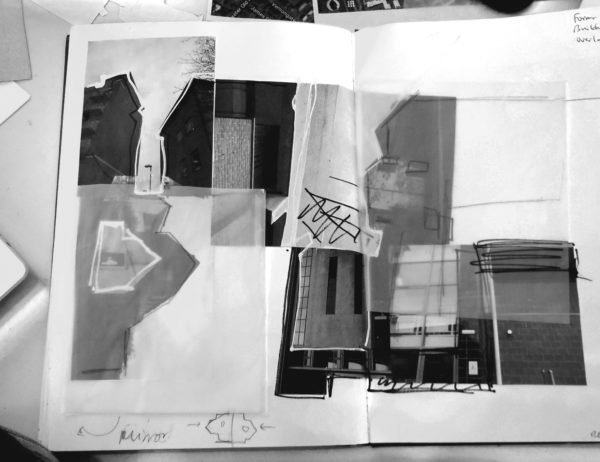 The process of collage is prominent within my practice. For this project it plays a dominant role both in
the process and the final work. I work with digital combinations with details of architectural buildings.
Read More
I have been thinking about turning the way I view my own work from previous projects on its head – instead of intuitively looking at composition, progression I am taking a step back from what I feel is the final outcome, changing my perspective on my primary collages and sketches and planning to weave them into a projection, or into the filmed documentation showing the progression and transition of an idea. David has also given very solid advice to not go with what you feel or what your normal stages of work would be, but to refresh my approach and try something that is out of my creative box, allowing me to grow as an artist. The notion of my sketches and collages a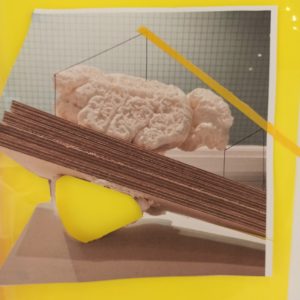 s a projection would be quite minimal as I often feel like I have shown my methods and documentation with but separate to the final outcome, stopping once the physical object is completed. It would be interesting to take the sculptural interpretation of the collages and continue to make the physical work, but for the final outcome to be a visual experience rather that a physical sculpture, and this would be broadening my creative intention towards my practice. Reading peter Eisenman's 'Diagram Diaries' I came across these two quotes: the first is about the technical aspects of lines and dimensions and the process through which shapes become diagrams; "Technical preconditions that would allow modern architecture to refound itself... on the twin bases
Read More