The Sharing of Uncertainty – Exhibition
16th October 2020 @ 12:00 pm

-

4:00 pm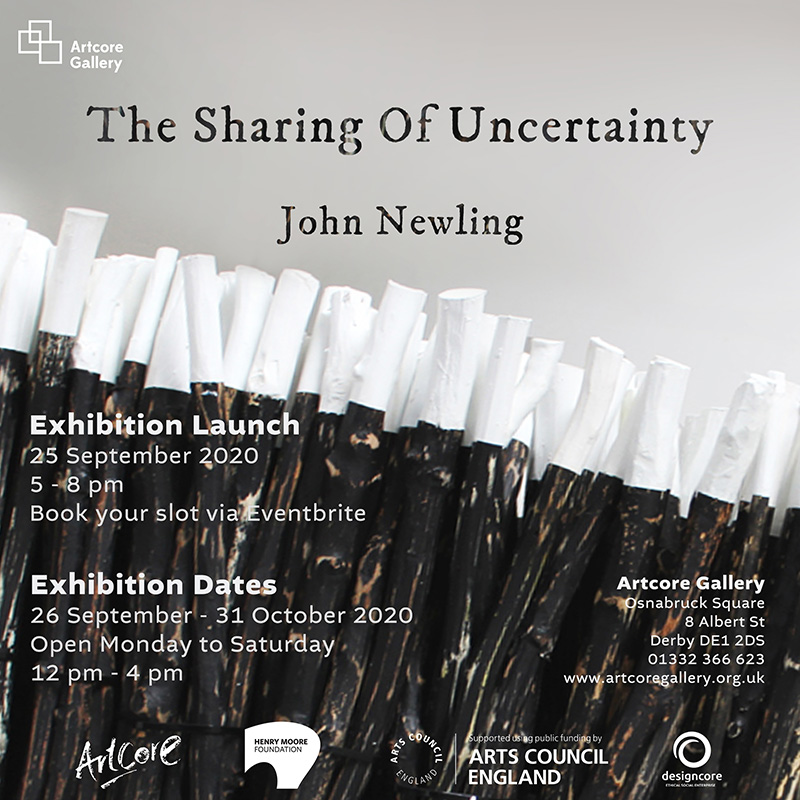 ABOUT SHOW
Artcore Gallery's opening show post lockdown, exhibiting the work of prominent artist and sculptor, John Newling. Newling is a pioneer of public art with a social purpose and his newest show 'The Sharing Of Uncertainty' explores his ever-expanding relationship with nature and the human species. The centrepiece of this show is Newling's Dear Nature Letters, a book published in 2018, comprising letters Newling wrote to nature every day for 81 days. The letters explore our relationship with the natural world – "part truth and reconciliation, part advocacy of an urgent need, part thoughts for future social ecologies". The Sharing Of Uncertainty will also see Newling's fascination with physical transformation with his piece the Soil Books. These are sculptures, derived from Newling's everyday experience of walking from his house into his back garden, picking up leaves on the way: "It's like a ritual, so that every leaf in those books – the language of the books – is from my garden."
ABOUT JOHN
John Newling was born in Birmingham in 1952 and has an acclaimed international reputation creating projects and installing works in the UK and many other countries. Nottingham-based, John Newling is a pioneer of public art with a social purpose. His works explore the natural world and the social and economic systems of society – such as money or religion. To this end Newling has innovated the possibilities and benefits for art in a renewed social and conceptual framework.
He belongs to a generation of artists whose work evolved from Conceptual Art, Land Art and Arte Povera – art movements occurring during the 1960s that placed emphasis on the concept, process and site of the work, alongside material and aesthetic properties.During his time in America (1985), as the first recipient of a Fulbright fellowship in visual arts, Newling produced works in hotels, swimming pools, burnt out cars, sales of memorabilia and on the streets of Los Angeles, San Francisco, Washington DC and New York. This experience marked the beginning of his enduring interest in notions of Place both in terms of cartography and context. This has generated many works over the following decades both gallery based and site specific.
OVER LOCKDOWN
"Where we are and where we can be.
The blog does not pretend to give any concrete aggregate for better living but hopes that it may give some ideas to others. In some ways, it is a sharing of uncertainty but that, I believe, is what we need right now as we reflect on where we are."
– John Newling
Since June 19th, we have had the pleasure to launch a new blog with John Newling titled The Sharing Of Uncertainity. For 8 weeks, we discussed the need for kindness within society as a whole first to our selves and then to the planet we inhabit, the idea of common values and how we value objects and materials and how important moments are and the impact a moment may have on an individuals life. The blogs have been accompanied some weeks with audio bytes where we were in conversation with John and we really dwelled into some of these ideas. If you haven't already, do check out the blog with the link below and have a listen to the various audio conversations with him.
John Newling – The Sharing of Uncertainty Exhibition 3D Virtual Tour