'Normal Service will be Resumed' Curated by Chris A. Wright and Jackie Berridge
18th May 2021 @ 11:00 am

-

5:00 pm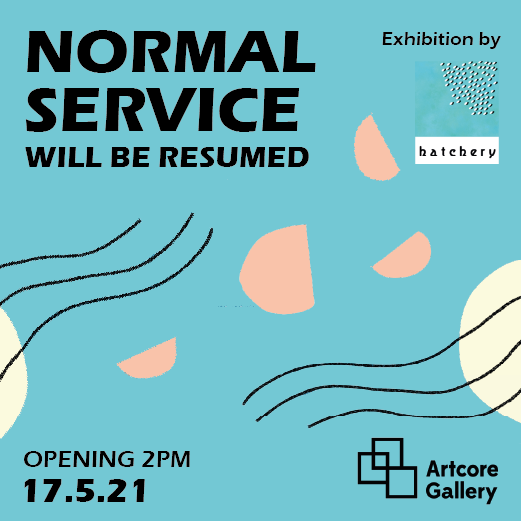 Exhibition Opening 17 May 2pm
The concept for Normal Service will be Resumed is simply to bring the work of Hatchery Artists together for the first time in a physical exhibition. They have developed their practices necessarily separately, and so have no theme, but through mutual support and the extensive knowledge of their multidisciplinary group they have explored the edges of their working practices to move forward.
Featuring works by Jackie Berridge, Linda Duvall, Mik Hobson, Chris A. Wright, Helen Lees, Mary Hayes, Yves Riguidel, Helan Stevenson, Lori Amor and David Byrne.
About the artists
Jackie Berridge graduated in 1995 and has concentrated on painting and drawing. With the support of Hatchery she is making 3-dimensional wall pieces. However, translating a drawing to something sculptural is proving to be both exciting and frustrating in equal measure.
Linda Duvall has a performative practice and is developing ways of writing ;
'What does one do when one has to stay in one place for a year? I walked – across open prairie, around buffalo berry swamps, through aspen bushes. And sometimes I stopped walking and just looked around, listened, and smelled.'
Mik Hobson uses words and writes:
A short word. A word short.
Normal service: a resumé
Will be resumed "Come!.. What?…. May?"
Event tu allies.
A chance re-mark. Collage.
A dab and a daub
En courage.
Chris A. Wright makes work that explores borders through different media but especially sound. Sound, for her, has shape that you can hold, roll around, taste, smell, feel, hear! Nurture it and let it become, give it the space to transgress.
Helen Lees' work aims to speak quietly and humbly but from a deep place of resistance to silencing, a recognition of vulnerability and a value given to that vulnerability. I seek to show how we can take responsibility for being vulnerable, whilst also living with and in the arms of self-love and love for others.
Helen Stevenson has been an artist for many years now and has predominantly worked with paint and canvas or digital art. She is interested in structures, colour and light particularly around repetition and the explorative intuitive nature of her working process. This image is from a maquette made when thinking about possibilities in creating stained glass forms.
Mary Hayes is a printmaker/painter in Nottingham, UK. Her interest is colour through light with reflections and distortions; she often uses photography in her work. She has a degree in Contemporary Fine Art at Nottingham University; her final degree show at Djanogly Gallery in 2012 used lighting as pure colour.
Yves Riguidel comes from a classical figurative tradition and is developing his practice towards a figurative abstraction beginning with movement of line, then figure and, finally, colour harmony
Lori Amor is fulfilling her long held ambition to learn 3D modelling. With the advent of new technology, she is creating tiny sculptures that she combines with her existing skills and ideas that include the processes of archaeology, anthropology and forensics.
David Byrne makes artwork that often reflects a particular day amidst lockdown when the sun made a rare appearance. The Hatchery exhibition will be a celebration. It will include an inspiring range of work and shine a light on the world around us.
Book the opening event here!