In Real Life exhibition launch
18th October 2018 @ 6:00 pm

-

8:00 pm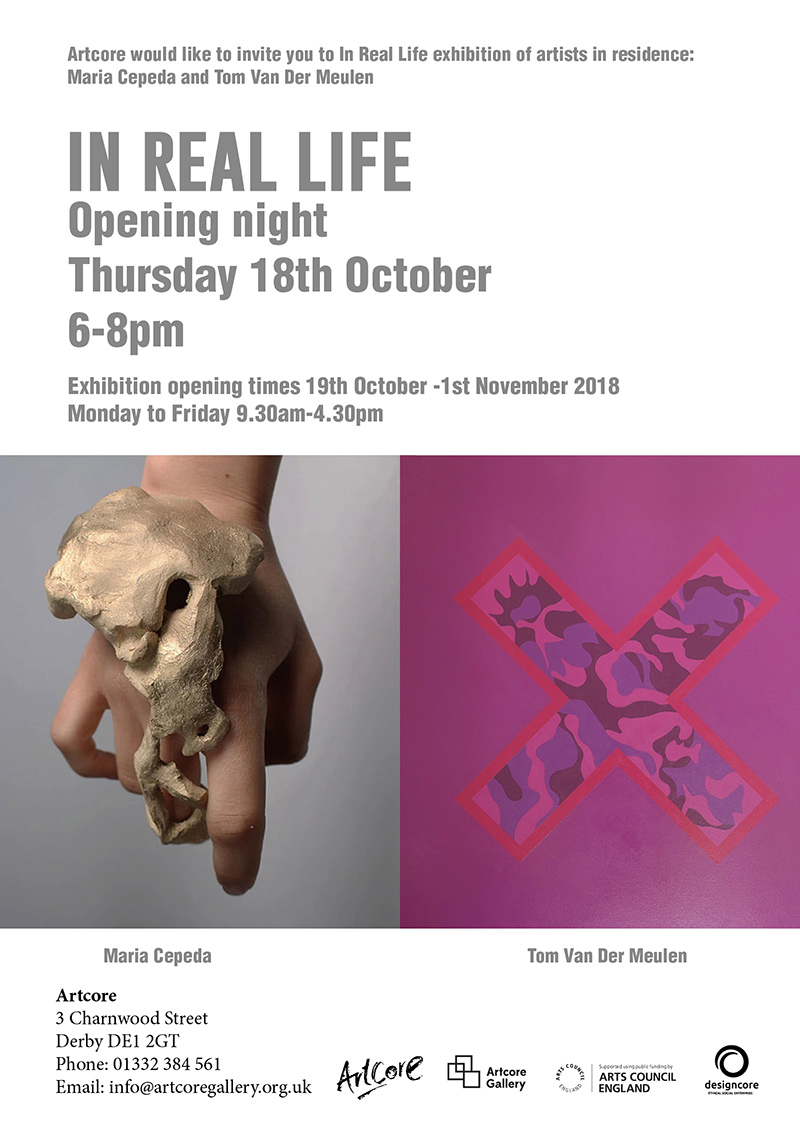 Artcore is proud to present In Real Life, an exhibition that exposes the contrasts and connections between reality and the digital world. As a result of a two-month residency at Artcore the show features new works by the artists in residence: Tom Van der Meulen and Maria Cepeda. The works on display makes use of new technologies, such as photospheric cameras and Virtual Reality headsets, and touches on themes of body image, social media addiction and online gaming.
In Real Life examines the digital world as both an outsider and a participant, and focusses on distinctions between the real and the virtual. The exhibition seeks to open a dialogue on the uses of digital technologies, our growing addictions to mobiles phones and other devices, and the ways we present ourselves online.
Maria Cepeda, a Fine Art student at Leeds University, works in a wide variety of mediums including ceramics, paint, photography, video and digital art. Her work is interactive and often includes wearable art and participatory elements. During the In Real Life residency, Maria created wearable artworks that replicate the different costumes and armours adorned by avatars in online role playing games. These wearable pieces are displayed alongside a Virtual Reality installation that can be experienced by audiences through a VR headset.
As audiences interact with Cepeda's VR installation, the digital motion of the headset may lag behind the wearers movements. For Cepeda, these glitches reveal differences between the virtual and the real world; differences that may start to fade as VR technology improves. Her work explored the conflicts that arise from these blurred lines between the real and the digital world. These glitches also mean that each viewer will experience her artwork in a different way, giving them autonomy over how they interact in a digital environment.
How we present ourselves online is a key concern for Cepeda, she believes our use of digital technology alters how we perceive our bodies and the bodies of others. Through creating avatars and modified versions of ourselves on social media platforms and role playing games, the imagined images associated with our identities and appearances become distorted and warped.
Tom Van der Meulen, a recent Fine Art graduate from the University of Reading, creates paintings inspired by digital glyphs and images. His works appears as windows to a surreal, digital landscape and often extend beyond the canvases they occupy. Van der Meulen's work is concerned by the aesthetic validity of flatness following the advent of digital reproduction; images of artworks are now shared so widely that many people become familiar with pieces of art without ever seeing the physical works.
The imagery used in Van der Meulen's work presents a conflict between the benefits of digital technologies, and the issues that arise because of them. He acknowledges that digital devices have revolutionised the way we experienced art and visual imagery, and draws inspiration from the graphic elements that we see every day. Van der Meulen reimages these digital designs as painted forms making use of acrylic paints and household gloss, adding a reflective element that cannot be replicated digitally.
In Real Life will open on Thursday 19th October 2018 and be on display until Thursday 1st November 2018.
There will be an opening night event on Thursday 18th October from 6-8pm featuring talks from the artists, a tour of the exhibition, and some time for refreshments and networking.
In Real Life is free to visit and can be seen Monday-Friday, 9:30am-4:30pm.
If you are planning a visit, please email admin@artcoreuk.com for a tour of the exhibition.