In Memoriam – Postcard Art Exhibition Launch
22nd February 2021 @ 4:00 pm

-

5:00 pm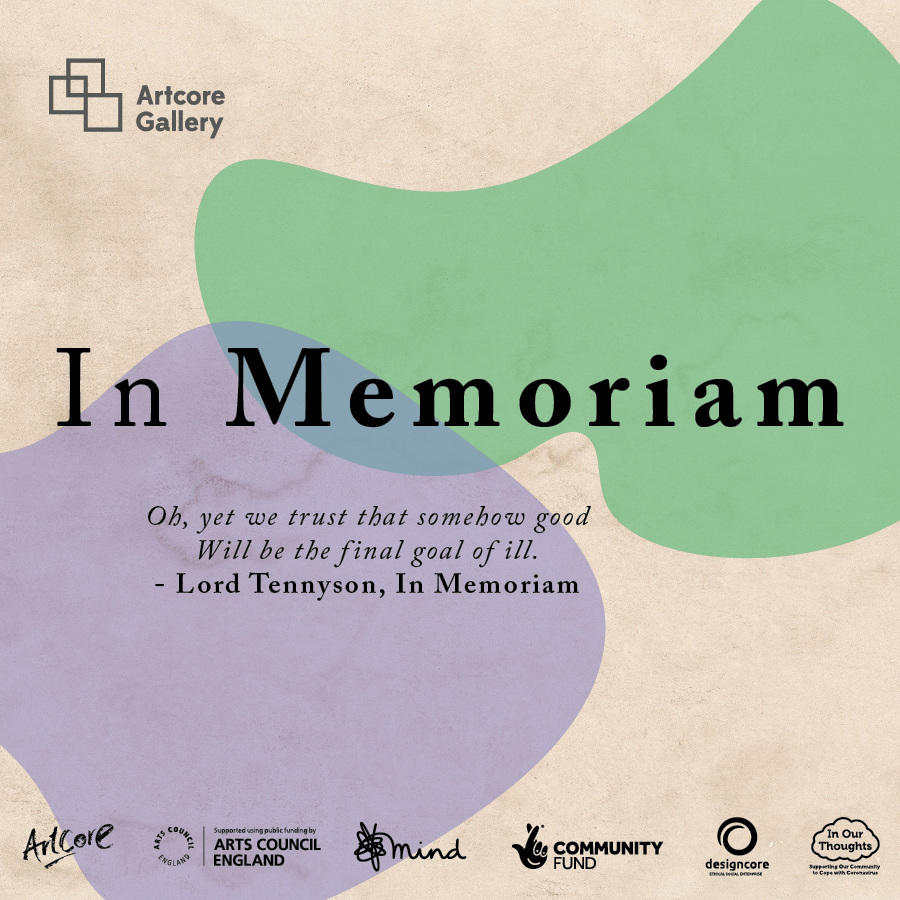 In Memoriam
Callout for expressions of interest – Postcard Art Exhibition and Auction.
Oh, yet we trust that somehow good
Will be the final goal of ill.
Lord Tennyson, In Memoriam
The global pandemic has had a huge impact on communities in Derby and Derbyshire, and in response Artcore has developed 'In Our Thoughts', a year-long participatory project supported by the mental health charity MIND, to help us support our communities to cope with Coronavirus.
We have been distributing 'In Our Thoughts' Memories packs to people who have experienced loss as a result of the pandemic and encouraged community members to contribute in creating a memorial, creatively sharing their thoughts and memories of the loved ones they have lost, to form a part of a virtual memorial and culminate in a showcase in 2021. More information at https://www.artcoreuk.com/in-our-thoughts/
The Callout
We would now like to invite artists based in Derby and Derbyshire to support the project by making postcard-sized artworks. Our aim is to support both our communities, and artists in Derby and Derbyshire. We will send selected artists an art pack, and you can use any form of expression you want – write a poem or a prose text, paint or draw, paste a collage or a photograph – whatever you think leaves you with a sense of closure, of emotional relief, of expressing what you have been unable to do so as yet.
Your artistic contribution will be exhibited at Artcore Gallery and in an online exhibition as a circle of embrace that we hope will bring together so many of us with a shared sense of loss and help us in coming to terms with our life from now onwards.
We will auction the work in a 'silent auction', with 50% of the proceeds going to you, as the artists, and 50% to support Artcore in continuing our 'In Our Thoughts' project, working with our communities to support them through the pandemic.
About Artcore:
Artcore supports and promotes the work of contemporary artists and uses art to bring about positive changes to the lives of people of all ages, abilities and cultural backgrounds. Its main activities include exhibitions, residencies, screenings, talks and festivals alongside daily workshops for adults and young people, many of which have moved online during this and the previous lockdown.
Artcore is a visual arts charity with bases on Charnwood and Albert Street, working within communities locally, nationally and internationally. It endeavours to operate as a cultural hub; fuelling active engagement for a diverse range of communities in Derby, the East Midlands and beyond. Artcore's long-term objective is to use arts and crafts as a vehicle to strengthen community cohesion, educate, raise awareness and provide a platform for development. Through its creative work it is committed to bringing change into the lives of people of all ages, abilities, cultural and ethnic backgrounds. Artcore is also an Arts Council England National Portfolio Organisation.
Our Location:
Derby has a developing visual arts culture, with galleries at QUAD, Derby Museum & Art Gallery and at Artcore, a University with Undergraduate and Postgraduate courses in the School of Arts, and much DIY activity across the City. Artcore has hosted three annual Visual Arts Summits, and is the lead organisation in supporting the development of the visual arts ecology of Derby.
We have recently taken on a large City Centre space, and our new Albert Street street building will be the physical venue for the exhibition, placing your work in a prominent new visual arts space right in the heart of Derby, as well as all work being shown and auctioned online.
How to Apply:
We are looking for Expressions of Interest, from which we will select artists to participate and to whom we will send art packs, and these should be made through Curatorspace: https://www.curatorspace.com/opportunities/detail/callout-for-expressions-of-interest–in-memoriam–postcard-art-exhibition-and-auction/4954
Timetable: 
Deadline – Please complete you're your expression of interest by midnight on Sunday 29 November
Packs will be sent to selected artists in the week of 30 November
The deadline for receiving completed artworks will be 11 January
The exhibition will open on 22 February 2020.
The 'silent auction' will launch from 26 February to 5 March and be run as part of the online preview (and -we hope – physically in the gallery if we are no longer in lockdown). 50% of the funds raised will go to the participating artists, and 50% to support Artcore's 'In Our Thoughts' project.