Designed to addict! Artist Talk by Helen Starr
27th September 2018 @ 11:00 am

-

1:00 pm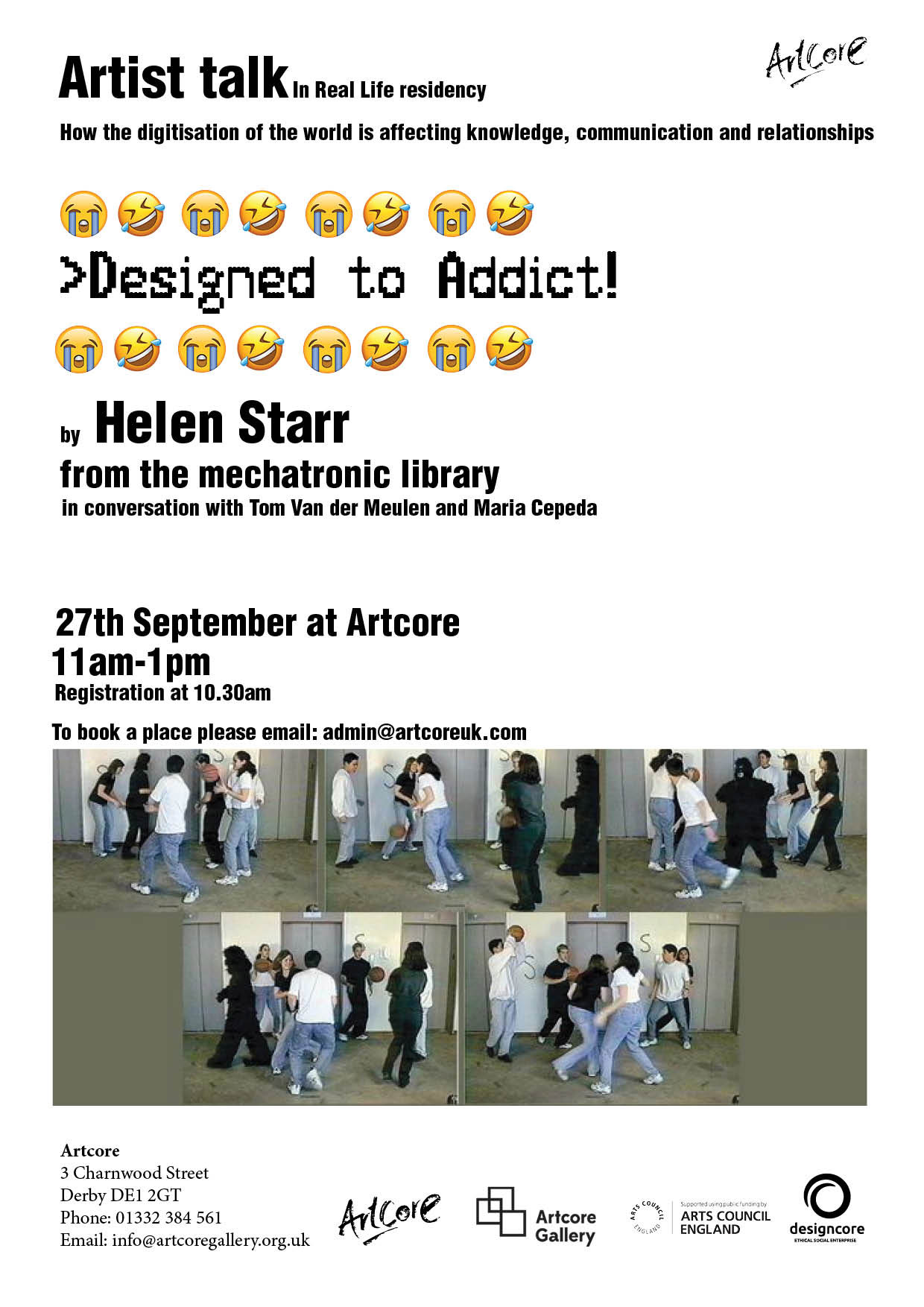 Artcore is delighted to welcome Helen Starr, founder of The Mechatronic Library, who will lead a discussion of reality, vulnerability and addiction in the digital age.
Designed to addict! By Helen Starr
All drugs of abuse, from nicotine to heroin, cause a particularly powerful surge of dopamine. People who develop an addiction typically find that, in time, the desired substance no longer gives them as much pleasure. They have to take more of it to obtain the same dopamine "high" because their brains have adapted—an effect known as tolerance.
In November 2017 Sean Parker, the first president of Facebook said. "The thought process that went into building these applications, Facebook being the first of them, …. was all about: 'How do we consume as much of your time and conscious attention as possible?" And that means that we need to sort of give you a little dopamine hit every once in a while, because someone liked or commented on a photo or post or whatever. And that's going to get you to contribute more content, and that's going to get you… more likes and comments. It's a social-validation feedback loop… exactly the kind of thing that a hacker like myself would come up with, because you're exploiting a vulnerability in human psychology."
He admitted that people like him, and Mark Zuckerberg knew the potential consequences, but they did what they did anyway.
About Helen Starr
Helen Starr founded The Mechatronic Library in 2010. The Mechatronic Library is a not-for profit organisation dedicated to fostering shared projects between artists and new digital technologies; including 3D printing, Augmented and Virtual Realities. Afro-Trinbagonian Starr particularly enjoys supporting artists who push the boundaries of these technologies whilst exploring such contemporary themes such as the Multiverse, Simulation theory and the hard problem on Consciousness.
For this event Helen Starr will be in conversation with Tom Van Der Meulen and Maria Cepeda, two artists in residence for In Real Life.
Join us on the 27th September at Artcore 11am-1pm.
Registrations open at 10.30am
Free. To confirm your attendance please RSPV to chiara@artcoreuk.com.
Artist Talks are part of Artcore residency programme throughout the 2018-2019 .