Where are you based?
I am currently based at Harrington Mill Studios in Long Eaton. As the studios will be closing at the end of 2018 I will be working from my home studio in Southwell, Notts. I eventually hope to move to Backlit in Nottingham in 2019.
How did your artwork start out?

After graduating from Nottingham Trent University in 1995 my work was abstract and inspired by different environments including landscapes, cityscapes and the home. Although the final pieces were non figurative I made lots of observational drawings and colour studies. My work has always been rooted in research and observation..
The big change to figurative work came as a result of moving to Chelmsford in Essex. There were no studios around and I felt isolated. I enrolled on an MA in children's book illustration at the Anglia Ruskin University in Cambridge as I have always loved children's books and I saw it as a new challenge. It meant I could develop work at the kitchen table and learn new skills including storytelling and how to develop sequential images. As well as writing and illustrating children's picture books I made large immersive sequential drawings.
As much as I enjoyed illustrating I knew I wanted to continue painting. I therefore fused the story telling with the painterly qualities of the previous abstract paintings to make new work.
The MA course required me to get under the skin of different characters and this led to my interest in body language and the way slight gestures and subtle facial expressions can convey different messages.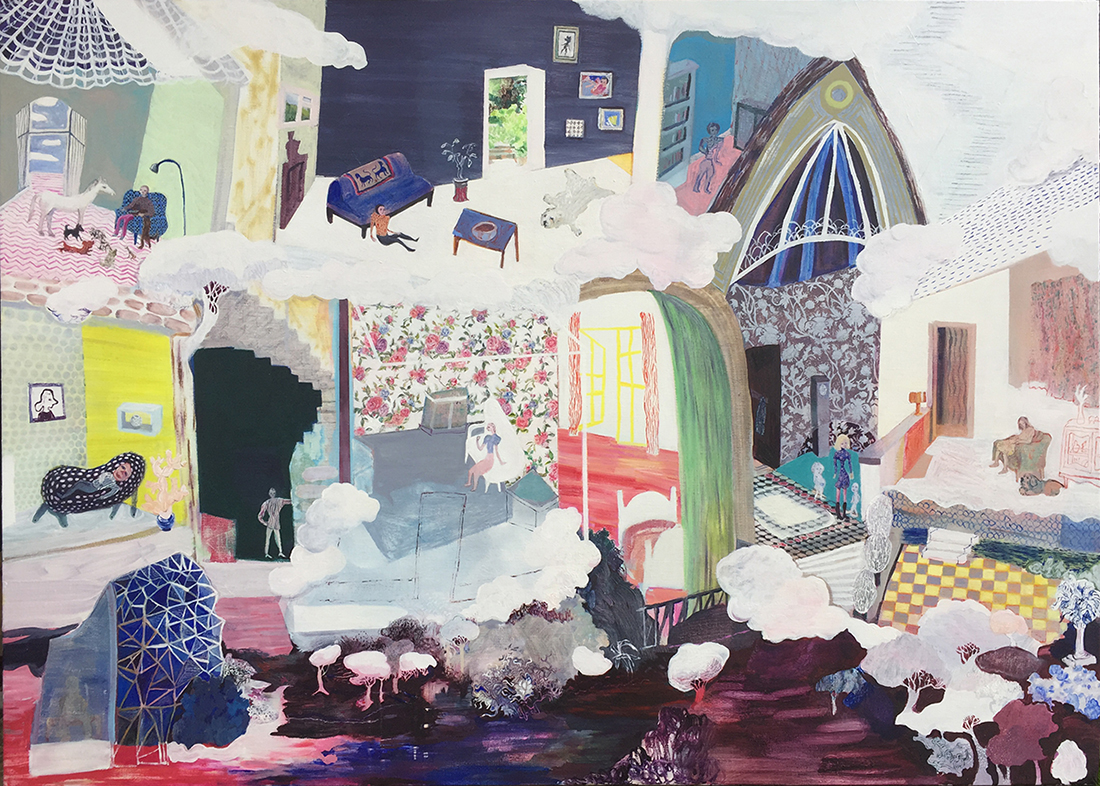 How do you get ideas for each piece of art?
Ideas stem from working in sketchbooks. Inspiration is wide and varied and includes contemporary culture, medieval paintings, Indian miniatures, 20th century monologues, space travel and bric-a-brac.
Recent visits to the National Gallery have been particularly rewarding. I am currently drawn to mediaeval and Renaissance paintings and especially the 'San Sepalcro Altarpiece' by the Sienese painter Sansetta. As well as the wonderful architecture and the interesting perspectives, I adore the minute detail. The British Library also provides a visual feast with illustrated manuscripts from Persia and Indian miniatures. I have embraced this quality in recent paintings, juxtaposing the decorative elements with more gestural and expressive mark making.
How do you go about transforming an idea like that into a physical piece?
My thoughts are shaped in sketchbooks. Over many months I draw and collage different ideas – from the sublime to the ridiculous. Thoughts flow freely, unselfconsciously and unedited. Like many artists I am never off duty and often jot down 'flashes', phrases and notes on my phone too.
I then close my sketchbooks, preferring to use my imagination or work from direct source material. I never plan, I always respond. The process of making work is organic with ideas developing further as the paintings progress.
How has your art evolved over the years?
See above
What does your art aim to say to your audience?
I hope to convey an image of a community of connected but socially disconnected people. Whether the individuals are alone or lonely is questionable.  Although I have particular people, real or fictitious in mind when creating the work; their identity remains deliberately ambiguous allowing the viewer to interpret the work for themselves.
My intention is to communicate the subtle nuances of body language which often reveal feelings of vulnerability, power or indifference. New work also focuses on the domestic environment using home decor as a means of human expression, providing props and clues for the viewer to interpret.
I especially hope people will find joy in the different qualities of my paintings including the patterns, gestural mark-making, colour and the imaginary architecture.
What is the most challenging about your work?
At first glance my work looks enticing and joyous. On closer inspection the paintings are much darker and layered, much like fairy stories and nursery rhymes. It is a challenge to find the right balance.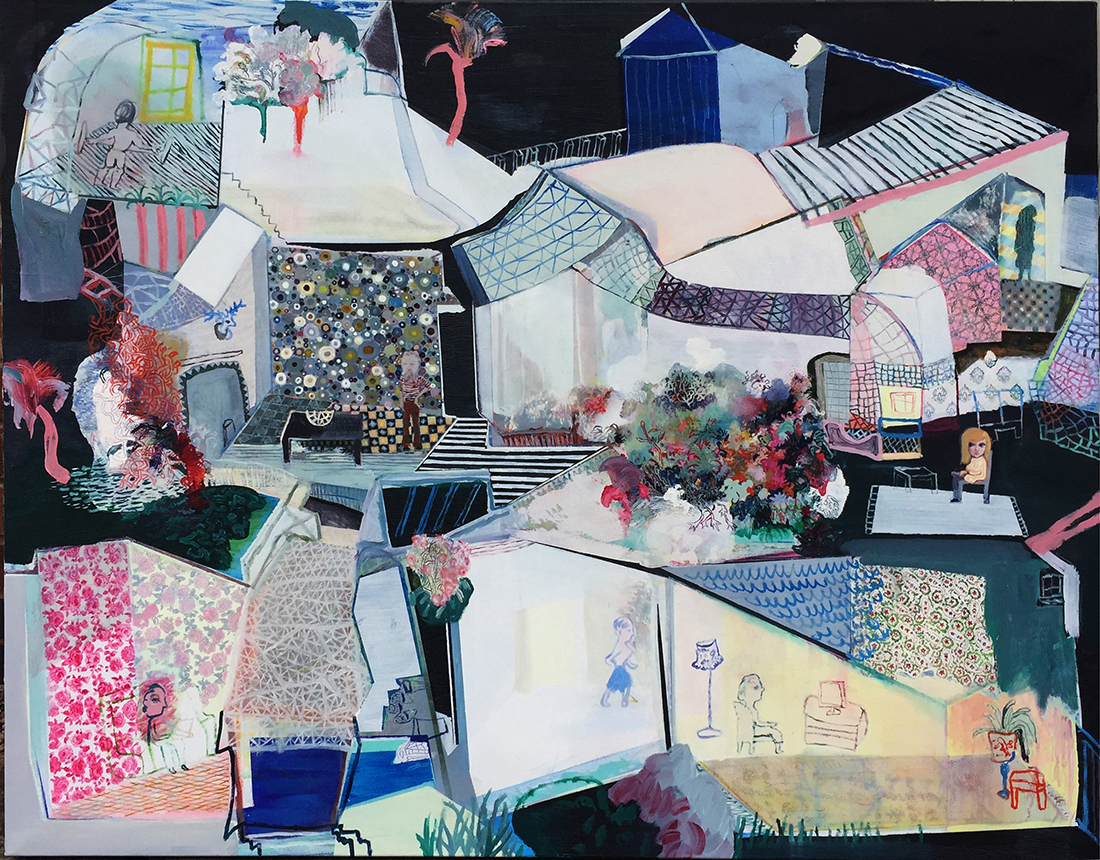 Where did you get your ideas from? (see also above)

My ideas are like a soup where the ingredients are sometimes difficult to separate.  I mostly use my imagination after working in a sketchbook – although I will source patterns and William Morris prints as decorative elements. These are gridded and painted on to the canvas or board. Sometimes I may use a model or item and directly paint from observation.
Looking back at these works, what you do think about them now?

Looking back at older work I can see a thread running through, even the earlier abstract work. I have always been interested in perception and ambiguity. This was the line of enquiry at university. Athough my work is more figurative I am still interested in how my work is interpreted,
Colour has always been a joy and still engages me.
My sketchbooks are still important part of my practice and they have become a visual diary of my development.
How and when you have decided to investigate themes like human behaviour, in particular the subtle nuances of body language which often reveal feelings of vulnerability, power or indifference.?
An important element in character development in children's books was looking at the way people stand, sit, sleep and run etc. I became very aware as an observer on we all perform these routine activities in slightly different ways. Expressions such as smiling can reveal a genuine emotion or a different smile can also relay something less generous. It's quite fascinating!
What is the most interesting or inspiring thing you have seen or been to recently, and why?
I recently saw the Jameel Prize 5 at the V&A where I was bowled over by the paintings of Iraqi-born artists Hayv Kahraman, also showing at the Nottingham Contemporary in 'Still I Rise'. I was interested to find she studied at the Accademia d'Arte e Design in Florence where the formal practices of Renaissance painting are taught – something she references in the postures of the women she paints.
Also revisiting the National Gallery and the British Museum has been rewarding. I looked at the amazing Italian paintings of the fifteenth century and realised I can slow down production and use the detailed one haired brush marks alongside the expressive mark making.
The Rose Wylie's exhibition 'Quack Quack' at the Serpentine last year was liberating. I loved the freedom of the brush marks and the scale. I also enjoyed the range of subject matter and the storytelling.
Which other artists' work do you admire, and why?
As well as the ones already mentioned I admire artists who surprise.
One of my favourite works is by Richard Wilson, an installation 50:50 which I saw when it was at the Saatchi in the 90s. I went in without knowing anything about the piece and was excited, exhilarated and absorbed.
Philip Guston is also a favourite for his political statement and painterly qualities.
Lubaina Hamid for the narrative content and theatrical interpretations.
Piero della Francesca's paintings for their beautifully balanced compositioned with a cool colour palette.
Sara Fanelli – for her inventive illustrations using collage, pattern and drawing in an imaginative way.
How do you see Kaipo Che! Residency, as an experience, to support your career?
This is my first visit to India and a massive opportunity for a cultural exchange.
I am looking forward to meeting the other artists in Baroda and exchanging ideas and experiences. It will be interesting to see how the Indian artists work today and what their inspirations might be.
As I have mentioned I am inspired by Indian miniatures and art, in particular the decorative and the narrative features. I am hoping to see more in the Vadodara Museum.
The architecture, landscape and the colours of India will inspire too. I am hoping the features of a different cityscape will feed new work.
I will be using my sketchbook to observe and record the residency and I am expecting the experience to inject new ideas and further develop my visual language.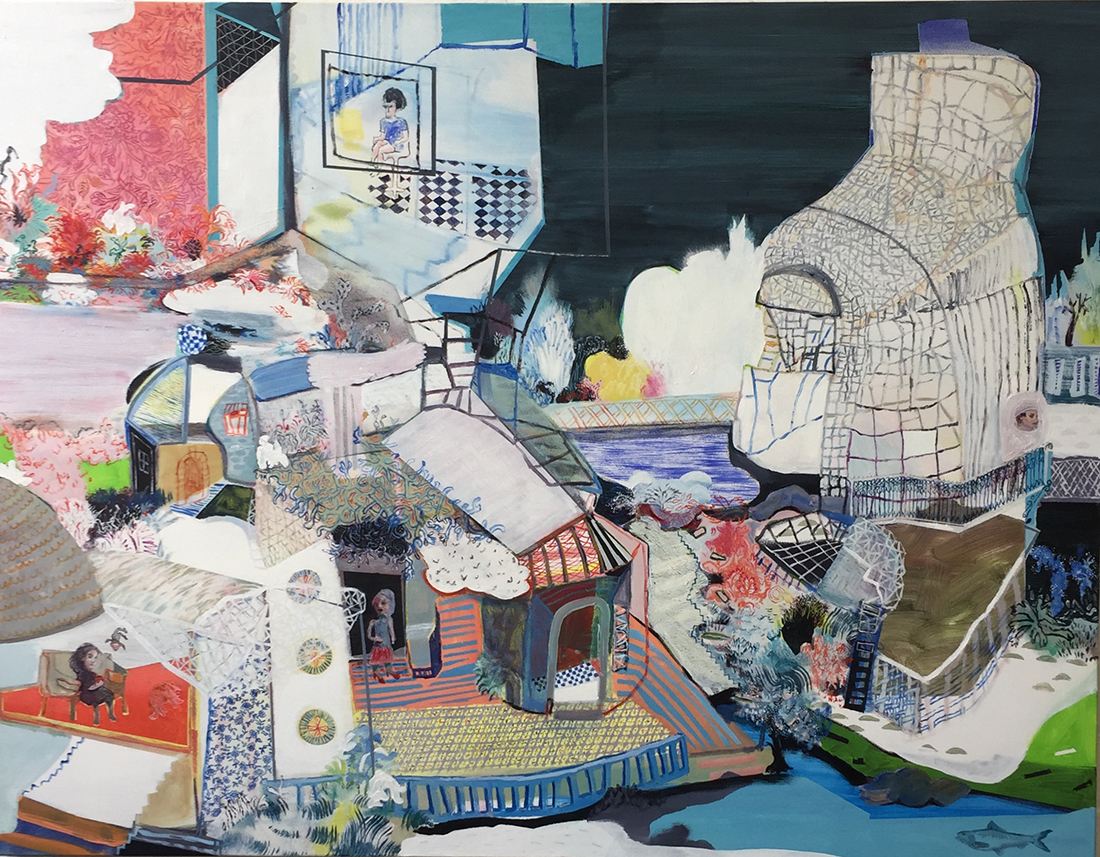 What's next for you in the future?
Artcore Residency in Baroda, India, January 2019
Curating a booth at the artist-led Platforms event in Athens, May 2019
Winchester College Gallery, solo show, September 2019